Hello Zimfest people new and old,
The deadline for Applications for Zimfest 2021 teachers, performers and presenters is June 30 – that's three days from now! See all deadlines and dates here.
Please read the Information for Applicants and note:
We are only accepting Live Workshop applications from residents in North America and Europe as internet and electrical power are not reliable in Zimbabwe. 
Applications to submit Pre-recorded presentations and performances are open to everyone. You do not need to be ready with a recording when you apply – we will let successful applicants know by July 10 how to submit recordings.
We are arranging recording sessions in Harare for Zimbabwean applicants unable to access recording equipment themselves.
We look forward to hearing from you very very soon!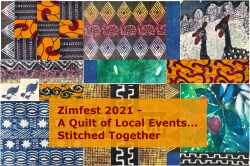 Stay cool,
Zimfest 2021 Organizing Committee