Parking
Parking for Zimfest participants will be available (and free!) from noon Friday, June 24 through noon Monday, June 27.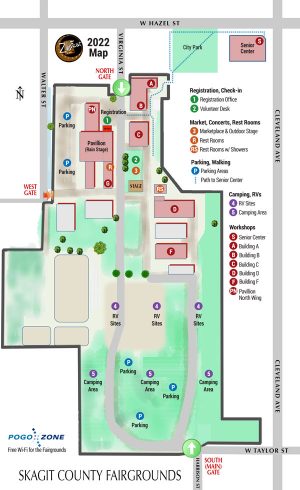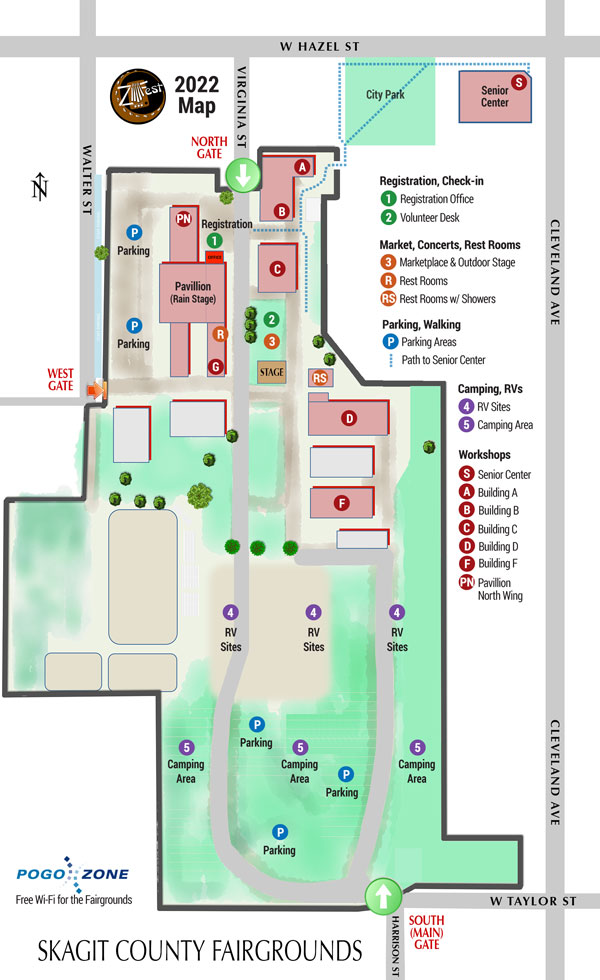 The grassy south end, accessed from the south gate at 479 West Taylor Street, is reserved for tent camping and dry RVs (no hookups). Campers may wish to park their cars next to their tents to be able to lock their property in their cars when they are not around.
RV hookup sites are located in the gravel lot north of the camping area as well as some in the grass to the east. Cars may also park in the graveled lot as long as they do not block road access.
There is additional parking behind the buildings, as shown on the map (or see larger Zimfest Map).
The south gate will remain open at night for campers returning to their tents and RVs. The north and west gates will be locked from 7 PM to 7 AM unless prior arrangements are made for nighttime entry.
Wi-Fi Service

There is free Wi-Fi at the Fairgrounds, provided by PogoZone. The Wi-Fi network is named PogoZone Free/Open Wi-Fi (or something like that), As you get further south in the parking lot/camping area, service may get a bit spottier.
Fairgrounds Rules of Conduct
The possession and/or use of drugs, other than prescribed medication, are prohibited.
Smoking of any substance at any location on Fairgrounds property is prohibited.
No animals or pets are allowed in the campsites and/or Fairgrounds with the exception of service animals.
Campground Rules of Conduct
In addition to the above, those camping or staying in an RV overnight need to comply with the following: