June 24, 25 & 26 • 7:30 to Midnight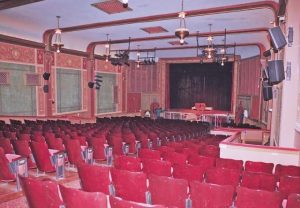 In a first for Zimfest, the ticketed evening concerts will feature live bands alternating with video of pre-recorded performances from Zimbabweans in Zimbabwe and elsewhere in the diaspora. We are excited about the quality and diversity of performers who we have lined up to submit recordings for Zimfest 2022, individuals and groups we could not bring here in person. And we are more than happy to welcome back some old friends to perform in person!
The Lincoln Theatre in downtown Mount Vernon is a classic theater dating from the vaudeville days, and has been a popular and essential part of the Skagit Valley for almost a century. Zimfest is proud to be associated with this enduring and historic community treasure!
Buy Tickets Evening concert tickets are available only from the Lincoln Theatre.
L = Live
P = Pre-recorded
Concert schedules are subject to change
7:30 – 8:30
L
Mbira dzaSoko
Richmond, CA USA
Zimbabwean mbira maker and player, Salani Wamkanganise and Kelly Orphan
8:35 – 9:05
P
Tsungai Tsikirai & Friends
Maidenhead, UK
The latest from Southern African vocalist extraordinaire Tsungai Tsikirai, backed by UK instrumentalists
9:05 – 9:50
L
Sarungano
Langley, WA USA
Sarungano "Storyteller," a 4-piece vocal and mbira ensemble
9:50 – 10:05
Intermission
10:05 – 10:20
P
Martha Thom: Jerusarema Dance
Harare, ZW
A joyful dance from Murewa, Zimbabwe
10:20 – 10:50
P
Linos Wengara Magaya & Zimbaremabwe Mbira Vibes
Brighton, UK
Acoustic mbira plus vocals and percussion
11:00 – 12:00
L
Boka Marimba
Portland, OR USA
Portland's original African-style marimba band
7:30 – 8:15
P
Totem Marimba Band
Johannesburg, SA
A range of world music on marimba, led by Michael Sibanda
8:15 – 8:45
P
Dzirimudeze Mbira Ensemble
Gweru, ZW
Indigenous and contemporary mbira music from Midlands State University
8:50 – 9:50
L
ZiMBiRA AfroFusion
Boulder, CO USA
10-piece AfroJam band steeped in the traditional music of Zimbabwe
9:50 – 10:05
Intermission
10:05 – 10:20
P
Ndomupeishe Chipendo: Dinhe Drum Circle
Harare, ZW
Presentation on the various Dinhe drumming patterns and chants
10:20 – 10:50
P
Music According to Percussion
Harare, ZW
Exploring different regions of Zimbabwe through music and dance
11:00 – 12:00
L
Vawachi II
Seattle, WA USA
Veterans of Maraire Marimba Ensemble and more!
7:30 – 8:20
L
Mahonyera Mbira Ensemble
Seattle, WA USA
This group has been together since before the first Zimfest in 1991!
8:25 – 8:55
P
Africa Rise
Harare, Mutare & Kwekwe, ZW
Top 5 winners of the 2022 Celebrate Africa music competition promoting African instruments and music
9:00 – 9:25
P
Vaima Arts Trust
Harare, ZW
Nyunga nyunga and marimba music from an organization that works with vulnerable members of the society
9:25 – 9:40
Intermission
9:40 – 10:05
P
Umkhathi Theatre Works
Bulawayo, ZW
Award-winning multi-disciplinary performing arts ensemble
10:05 – 10:50
P
Mhare DzeNhare
Harare & Chinoyi, ZW
A collective of seven women mbira players with a fresh take on the traditional repertoire
10:50 – 11:50
L
Jeff Brahe & Friends
Lakewood, WA & Santa Fe, NM USA
Mix of marimba, mbira, bass guitar and vocals guaranteed to please!