Zimfest 2020 at the Evergreen State College is CANCELLED. See the blog post (March 23rd) Announcing the Cancellation of Zimfest 2020.

The Zimbabwean Music Festival (also known as Zimfest) celebrates Zimbabwean music and culture in its many forms. During this time of staying apart together, we have been working on ways for our community to engage with one another and with Zimbabwean culture online. Please consult the Zimfest Online page for upcoming offerings of educational sessions with Zimfest teachers.
We are honored to have Tapiwa Kapurura, a Zimbabwean writer with a passion for poetry, languages and music, present our inaugural online workshop on June 6. Tapiwa, his wife Victoria and their three college-age offspring are deeply rooted in Zimbabwe and have been regular attendees at Zimfest since 2010. We welcome back (virtually) the internationally-known performer, music educator, ethnomusicologist and bandleader Tendai Muparutsa. Tendai is an Artist-In-Residence at Williams College in Massachusetts, where he has been teaching since 2012. Look also for Festival Coordinator Claire Jones returning to teaching online with a little extra time on her hands.
See Zimfest Online »
Volunteering
Zimfest is a festival created by the people who love Zimbabwean music. Volunteers work on all aspects of the festival, from year-round planning to on-site labor supporting festival operations. We—the people—work with the not-for-profit Zimfest Association to plan, organize and run this festival! We think this is a really great thing, and you are warmly invited to be part of the festival in this way. Please go to the Why and How to Volunteer page to sign up if you would like to be involved in any project or activity.
Our new feature, Zimfest is Family, honors some of the volunteer families, many of them multi-generational, who have kept the Association and the Festival going year after year.  
Music Dancing Across Borders
The Zimfest Association Board has chosen to carry over the 2018-19 theme, "Music Dancing Across Borders" for Zimfest 2020. Considering that circumstances for immigrants and citizens both here in the United States and in Zimbabwe continue to be under threat, we remain steadfast in the belief that music and dance are unifying forces around the world. We look forward to dissolving borders and creating togetherness at Zimfest 2020.
Announcing the Winning 2020 Poster and Publicity Card Design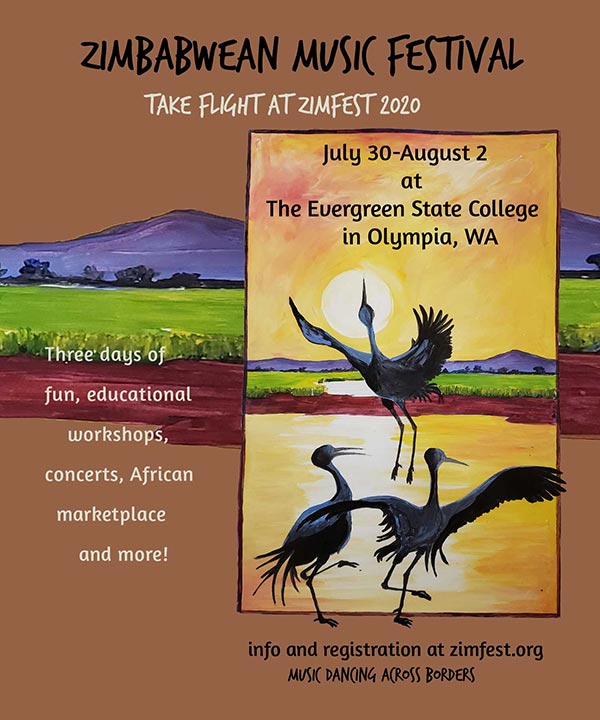 Congratulations to Carrie Rodlend of Sequim, WA, whose delightful illustration of dancing cranes stepping and stretching over borders has been chosen for the Zimfest 2020 poster and marketing materials! Carrie is an art teacher and longtime member of Sequimarimba; you will find her managing the Zimfest booth in the marketplace at the festival. She wants you to know that the blue crane is the national bird of South Africa! Thanks also to Deb Dole for putting together the Save the Date card (pictured here).