Zimfest 2020 is CANCELLED. See the blog post (March 23rd) Announcing the Cancellation of Zimfest 2020.
The Zimbabwean Music Festival (also known as Zimfest) celebrates Zimbabwean music and culture in its many forms. Please join us for Zimfest 2020 at The Evergreen State College in Olympia, Washington, from July 30 to August 2. We know Washingtonians have been looking forward to the return of Zimfest to their state, and Olympia is conveniently located 60 miles south of Seattle but only 100 miles north of Portland, OR.
The Zimbabwean music community has strong ties to Evergreen; Dr. Dumisani Maraire taught there in the mid-1970s and many of our members are graduates or current students of the college. The Evergreen campus is in a beautiful forested setting which includes a large network of trails leading to the college's Organic Farm, unspoiled forested areas, and more than 3,000 feet of pristine beach on the Puget Sound. Off campus, Olympia as the state capitol is a joy to explore, and the area is located in a diverse landscape worth exploring, featuring many state and national parks, the Olympic Mountains and of course the Pacific Ocean.
Land Acknowledgement: Zimfest joins The Evergreen State College in acknowledging the indigenous people of the Medicine Creek Treaty, on whose land the college stands. We acknowledge the Squaxin people who are traditional custodians of this land and pay respect to elders past and present of the Squaxin Island Tribe.
Music Dancing Across Borders
The Zimfest Association Board has chosen to carry over the 2018-19 theme, "Music Dancing Across Borders" for Zimfest 2020. Considering that circumstances for immigrants and citizens both here in the United States and in Zimbabwe continue to be under threat, we remain steadfast in the belief that music and dance are unifying forces around the world. We look forward to dissolving borders and creating togetherness at Zimfest 2020.
Announcing the Winning 2020 Poster and Publicity Card Design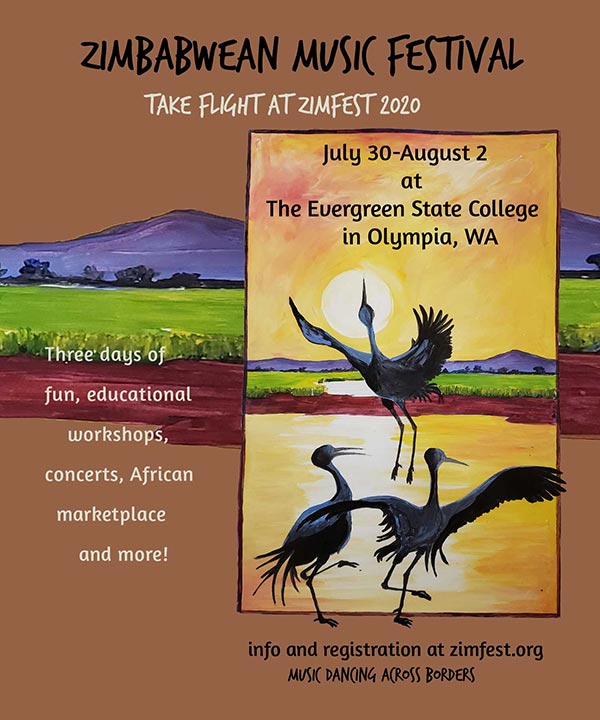 Congratulations to Carrie Rodlend of Sequim, WA, whose delightful illustration of dancing cranes stepping and stretching over borders has been chosen for the Zimfest 2020 poster and marketing materials! Carrie is an art teacher and longtime member of Sequimarimba; you will find her managing the Zimfest booth in the marketplace at the festival. She wants you to know that the blue crane is the national bird of South Africa! Thanks also to Deb Dole for putting together the Save the Date card (pictured here).
For a home-printable PDF, click the card. If you would like to print several to distribute in your community, please write .