Music Dancing Across Borders
The 2023 Zimbabwean Music Festival took place August 3-6 at Oregon State University in Corvallis. A family-friendly cultural festival, Zimfest has something for everyone: Dynamic concerts, fun educational workshops, African marketplace and more. This year represented a return to the heartland of Oregon as the festival was last held at OSU in 2010 and 2011. Accomodations and activities, including music and dance workshops, were centered in McNary Hall. Afternoon and evening concerts, the African Marketplace and our first Night Market all took place outdoors at adjacent McNary Field (Lower Campus).
Meet the Zimbabweans at Zimfest 2023
We were excited to welcome three Zimbabwean teachers new to Zimfest this year! Unfortunately, Joyce Warikandwa Chihera and Innocent Musafare Mutero were unable to join us in 2023.
Zimbabweans Returning to Zimfest
Teachers returning to Zimfest who traveled from abroad were Tsungai Tsikirai, a singer, songwriter, teacher and performer based in the UK. Tsungai participated in Zimfest 2018, teaching choral music. Joining us from South Africa is Michael Sibanda, marimba specialist, composer, arranger, performer and renowned music educator, as well as multi-instrumentalist and dance performer Napolean Kudzie Jambwa.
Finally, we were so glad to welcome our returning North American-based Zimbabwean teachers and performers: Clayton Pasi Gunguwo (Edmonton), Danmore Kusaya, brother of first-timer Tendayi (Indianapolis), Zivanai Masango and Helen Masvikeni-Masango of ZiMBiRA (Boulder) and Tapiwa & Victoria Kapurura (Salem). Unfortunately, Moyo Mutamba (Toronto) had to withdraw from Zimfest this year because of personal and work pressures. Our workshop schedule was filled out by an experienced crew of North American teachers.
Covid Safety
The Zimfest Board strongly recommended, but did not require, all attendees be fully vaccinated against COVID-19. We also recommended, but did not require, all Zimfest 2023 participants to mask at all times while in public indoor spaces at the Festival. Please read the details on the Covid Safety at Zimfest 2023 page.
Zimfest 2023 Save the Date Card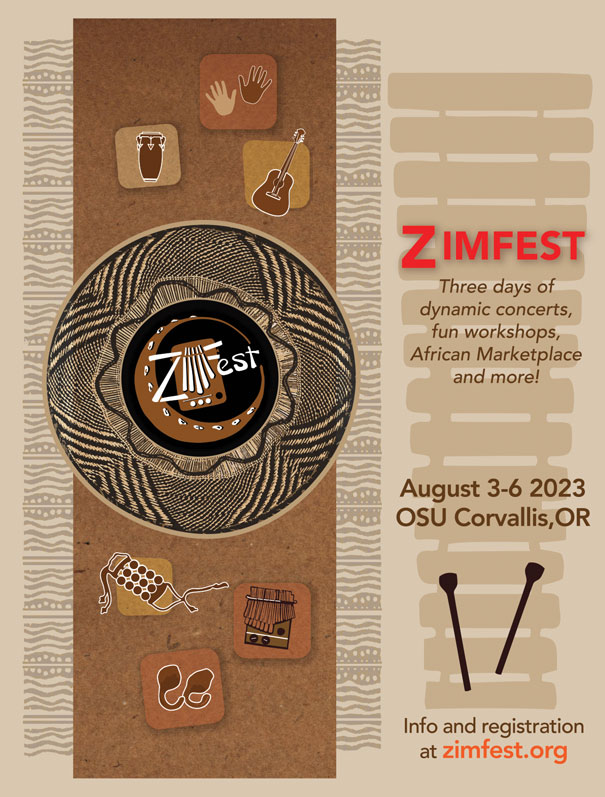 Statement from the Designer
"I've been a fan of Zimbabwean music since seeing Lora Chiorah-Dye and her family perform at Folklife in Seattle 25 years ago. I hope that this year's design honors her legacy and all Zimbabweans and their musical cousins here in the U.S. and around the world."
— Penny Martindale, Olympia WA
(Click to download a printable PDF)