The Zimbabwean Music Festival (also known as Zimfest) celebrates Zimbabwean music and culture in its many forms. Please join us for Zimfest 2020 at The Evergreen State College in Olympia, Washington, from July 30 to August 2. We know Washingtonians have been looking forward to the return of Zimfest to their state, and Olympia is conveniently located 60 miles south of Seattle but only 100 miles north of Portland, OR.
The Zimbabwean music community has strong ties to Evergreen; Dr. Dumisani Maraire taught there in the mid-1970s and many of our members are graduates or current students of the college. The Evergreen campus is in a beautiful forested setting which includes a large network of trails leading to the college's Organic Farm, unspoiled forested areas, and more than 3,000 feet of pristine beach on the Puget Sound. Off campus, Olympia as the state capitol is a joy to explore, and the area is located in a diverse landscape worth exploring, featuring many state and national parks, the Olympic Mountains and of course the Pacific Ocean.
Music Dancing Across Borders
The Zimfest Association Board has chosen to carry over the 2018-19 theme, "Music Dancing Across Borders" for Zimfest 2020. Considering that circumstances for immigrants and citizens both here in the United States and in Zimbabwe continue to be under threat, we remain steadfast in the belief that music and dance are unifying forces around the world. We look forward to dissolving borders and creating togetherness at Zimfest 2020.
Volunteering
Zimfest is a music festival created by the people who love Zimbabwean music. Volunteers work on all aspects of the festival, from the planning stages to on-site labor supporting festival operations. We—the people—work with the not-for-profit Zimfest Association to plan, organize and run this festival! We think this is a really great thing, and you are warmly invited to be part of the festival in this way. Please go to the Why and How to Volunteer page to sign up if you would like to be involved before the festival.
Zimfest 2019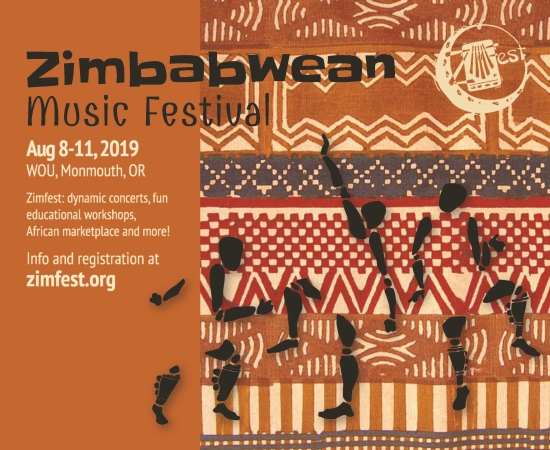 Zimfest 2019 was held August 8-11 at Western Oregon University in Monmouth, Oregon. A family-friendly three-day cultural festival, Zimfest has something for everyone: Dynamic concerts, fun educational workshops, African marketplace and more.
Zimfest 2019 welcomed our first-ever female Zimbabwean marimba specialist, Tafadzwa "Zwa" Gapara! A graduate of Midlands State University in musicology, Zwa spent several years touring in South Africa with the Royal Vibrations Marimba Band and Soweto Gospel Choir and is now teaching in Bulawayo. Also new to Zimfest was Kelvin Chikumbirike, a Harare music educator who has taught nyunga nyunga and marimba at a number of institutions including the Jairos Jiri Association, working with disabled individuals. Kelvin is currently engaged in a project teaching nyunga nyunga to homeless youth and inmates.
Returning to Zimfest after an absence of four years was mbira player, dancer, drummer and singer Patience Munjeri, coming from Chinoyi, Zimbabwe. Gwenyambira Alois Mutinhiri also joined us from Zimbabwe, as did the multi-talented Tafadzwa Matiure. Dancer and multi-instrumentalist Napoleon "Kudzi" Jambwa and marimba teacher extraordinaire Michael Sibanda both came from South Africa.
We also welcomed back Zimbabwean-US residents Zivanai Masango (Boulder); the Muchineripi family band Chihera (Denver); Tapiwa and Victoria Kapurura and family (Salem); and Chaka Mhembere and Gilbert Zvamaida (both from Eugene).
For details, see the Zimfest 2019 Archive.