Music Dancing Across Borders
Zimfest 2023 will take place August 3-6 at Oregon State University in Corvallis, OR. This year represents a return to the heartland of Oregon as the festival was last held at OSU in 2010 and 2011.
Festival activities and accommodations will be centered in McNary Hall in the northeast corner of campus. Workshops, ranging from instrumental and vocal instruction to dance and cultural presentations, will be held in the McNary lounges, the Memorial Union and other locations to be determined. An African Marketplace, free afternoon concerts and evening concerts (yes, outdoors! by donation!) will all take place outdoors at the adjacent McNary Field (also known as Lower Campus).
Corvallis, reputedly the #2 Friendliest College Town in the U.S., is located in the heart of the Willamette Valley. It is one of the most bike-friendly and sustainable cities in the country, offering diverse cultural opportunities without the bustle of a big urban center. Plan how you are Getting to Zimfest and things to do in The Corvallis Area.
Land Acknowledgement
Oregon State University in Corvallis, OR is located in the traditional territory of the Champinefu ("Mary's River") band of the Kalapuya. After the Kalapuya Treaty (Treaty of Dayton) in 1855, Kalapuya people were forcibly removed to what are now the Grand Ronde and Siletz reservations, and are now members of Confederated Tribes of the Grand Ronde Community of Oregon and the Confederated Tribes of Siletz Indians.
We gather for Zimfest 2023 on the ancestral homelands of the Champinefu band of the Kalapuya. We acknowledge the indigenous communities that originated here and who have journeyed to other locations via forced displacement. We recognize that, without them, we would not have the opportunity to come to gather at Oregon State University. We extend our deepest respect and gratitude to them.
Covid Safety
The Zimfest Board strongly recommends — but does not require — that all attendees be fully vaccinated against COVID-19. We expect all Zimfest 2023 participants to mask at all times while in public indoor spaces at the Festival. Please read the details on the Covid Safety at Zimfest 2023 page.
Zimfest 2023 Save the Date Card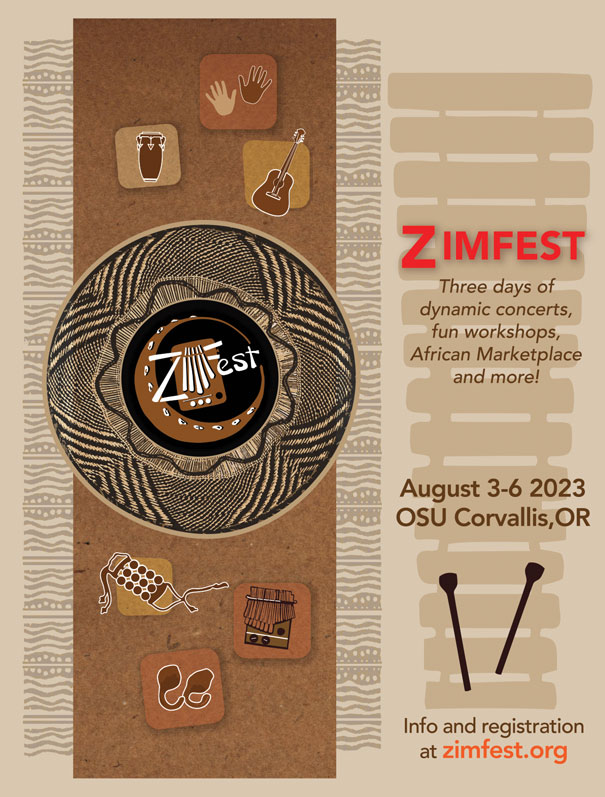 Statement from the Designer
"I've been a fan of Zimbabwean music since seeing Lora Chiorah-Dye and her family perform at Folklife in Seattle 25 years ago. I hope that this year's design honors her legacy and all Zimbabweans and their musical cousins here in the U.S. and around the world."
— Penny Martindale, Olympia WA
(Click to download a printable PDF)