There are many ways to support Zimfest. You can become a member, you can volunteer, and you can make a donation. Many people do all three!
Donate
You can donate any amount you choose. Because Zimfest Association is an IRS 501(c)(3) non-profit organization, all donations are tax deductible in the United States. We greatly appreciate any donation you are able to make. Thanks for your support!
Donate Via PayPal
To donate using a credit card or PayPal account, click the Donate button.
Donate Via Check
Make checks
payable to:
Zimfest Association
Mail checks to:
Zimfest Association
c/o Chris Halaska
2170 Garfield St.
Eugene, OR 97405
Zimfest 2018 Fundraising Drive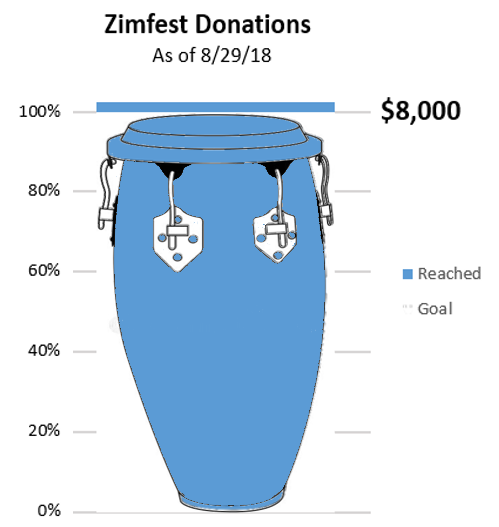 Help us keep Zimfest and the celebration of Zimbabwean culture strong and active into the future. Donate in the Zimfest 2018 Fundraising Drive. This year, we are aiming to raise $8,000 towards the cost of: transportation, room and board for the group of talented Zimbabwean teachers; implementing the new festival registration system; and purchasing marimbas to augment the supply of instruments at the festival.
Some fun ideas for raising funds in support of Zimfest include hosting events in your local community — benefit concerts, dance parties, fundraising dinners and silent auctions. Share your events on the Zimfest Facebook Page so that we can see all the exciting events that are being planned to support Zimfest 2018. For more ideas, see the Letter From the Zimfest Board and this blog post.
If you would like your gift to be In Memory of someone, enter their name in the "Note to seller" section on PayPal. (If you already donated this year and want to add a name, send us a message.) We will create an In Memoriam here on this web page.
Prices of Impact
$9.50 – Dinner at Zimfest for 1 Zimbabwean
$24.25 – Meals for a day for 1 Zimbabwean
$640.00 – Housing for 4 Zimbabweans during Zimfest
$1,513.00 – All weekend meal plan for 17 Zimbabwean teachers
Update August 29: Thank you for participating in the $1,000 matching challenge, from friends and relatives who really know nothing about Zimfest to our long-time loyal supporters. With all of your help we raised $1,500. A big thank you to our anonymous donors for this final Zimfest 2018 challenge. We have met and exceeded our $8,000 fundraising campaign goal for Zimfest 2018.
Ways to Contribute When You Shop Online
Giving Assistant
Sign up now for Giving Assistant before shopping at Bed Bath & Beyond, Joann, Staples, and more than 3,000 online stores. You can give up to 30% of your purchase price to Zimfest Association!
AmazonSmile

The Zimfest Association is registered to receive donations when people shop at AmazonSmile. You can support Zimfest by choosing Zimfest Association as the organization you would like to receive 0.5% of the price of your eligible Amazon purchases. Amazon will make a donation to Zimfest Association. Set it up at https://smile.amazon.com/ch/91-1951506.
EBay

For anyone who sells items on EBay, you can choose to donate a percentage of the final sales price to the Zimfest Association. See http://charity.ebay.com/charity-auctions/charity/zimfest-association/72685/.