Housing
All Zimfest participants staying in WOU dorms will be housed in Ackerman Hall or Butler Hall. The Butler complex is convenient to Valsetz Dining Hall. Ackerman is centrally located on the edge of the Grove, and is totally wheelchair accessible. The second, third and fourth floors of the west wing of Ackerman (rooms 202-227, 302-326 and 402-427) will be "quiet floors" to accommodate occupants requesting a quiet environment. You will not be able to choose specific rooms as in past years, but the current Zimfest registration system does allow you to select the dorm and room type, and in the case of Ackerman Hall, the floor and quiet wing.
Download a map and directions to the residence halls here. Short HD video tours of the accommodations in the residence halls are available here.
Registering for Double Rooms or Suites
Housing will be purchased by the room, not by the individual. This means that a single person who signs up for a double room or suite will be charged the total cost for however many nights the room will be occupied. When you register, you will be asked whether you need to purchase a room, or if you are rooming with someone (who is the person paying for the room). Please note: you choose your roommate(s), not us! The registration system will allow you to name your roommate(s) so that they may pick up their own room key from WOU personnel.
WOU Housing policy states that "rooms are to be occupied only by guests for whom they are reserved. The maximum number of guests in a room is not to exceed the number of beds placed in a room by the University at the time of check-in. Violations will result in additional charges or possible eviction of additional guests." In other words, no more than two people may stay in a double suite, no more than two in a double room, no more than three in a triple suite, and only one in a single.
Ackerman Hall
WOU's newest dormitory, Ackerman was the first large-scale residential hall in the nation to receive a LEED Platinum rating for Environmental Stewardship. Ackerman offers traditional residence hall style rooms available in single or double occupancy only. Each wing has 22 rooms with a common lounge area, shared community bathrooms separated by gender, and a private ADA accessible single bathroom at each end of the wing as well. There is a shared kitchen in the common lounge area on the fourth floor, which Ackerman residents may access from 7 a.m. to 10 p.m. each day (use the west elevator). Download floor plans for Ackerman here.
Butler Hall
Butler Hall offers suites with outside entrances, private bathrooms and shared sleeping areas for two or three people. The double suites have small kitchenettes. The triple suites have no kitchenette. The floor plans for Butler can be downloaded here.
Linen Packages
All rented rooms will be provided with linen. A linen package includes: pillow with pillowcase; two sheets; fleece and cotton blankets; a set of towels and washcloths; soap and a drinking glass. Zimfest guests needing extra linens may request them at the Residential Service Center (see below).
Family Discount on Housing
If your family (at least one parent with one or more children below the age of 12) wishes to request a family housing discount, please contact us at before you register and pay for housing, so that we can determine your eligibility and enter up to 20% off your housing costs for you.
Internet Access
Each room is equipped with free, high-speed wireless internet access. You can set up access by connecting to the wireless network "wou-guest-open" which will walk you through the steps to complete registration. Computers are available for use in the The Residential Computer Lab, located on the ground floor on the north side of the Valsetz Dining Hall (in the same location as the RSC mail room). Contact the Conference Services office (in the Residential Services Center – see below) for internet assistance.
Tent and RV Camping at WOU
Zimfest 2019 is pleased to offer a limited number of tent campsites as well as RV parking on the WOU campus.
The registration fee for each tent or RV will be $10 per night.
Please pre-pay through online registration for all nights you wish to camp or park your RV.
When you arrive at Zimfest, go to the housing check-in (see below) where you will be issued a camping pass.
Tents may be pitched in the Hammer Throw area just south of parking lot G adjoining the football/track stadium (see red-circled area in the bottom left of the photo below). No tents outside of this area please!
RVs can park in Lot G, just west of the football/track stadium. There will be no hookups for water, sewer or electricity.
You must display your camping pass prominently on your tent or dashboard.
NO campfires, fire pits or charcoal fires are permitted. Cooking is limited to camp stoves such as propane stoves.
Restrooms in the Stadium are open 24/7, most convenient for campers and RVers. Restrooms with showers will also be open in the New PE building (just north of Lot G) from 7-9:30 a.m. and 5-7:30 p.m. Thursday evening through Monday morning. Portable toilets will be available for use 24 hours a day in the Grove, the location of the Marketplace and Zimfest outdoor stage.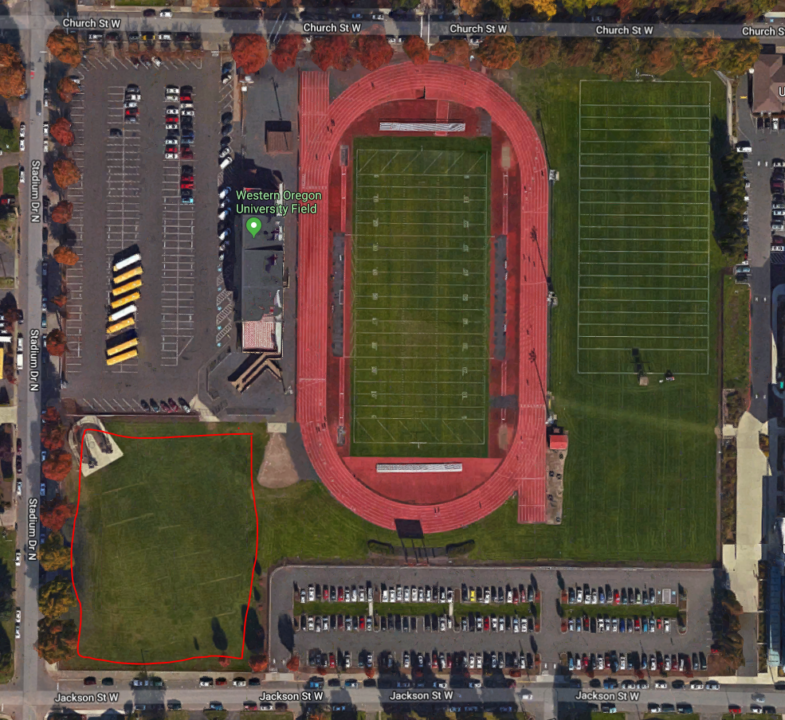 Important Info About Housing Check-in and Check-out
If you have registered for rooms, camping and meals, you may check in to pick up your keys, fobs (building passkeys) and all-meal cards at the Ackerman Hall Help Desk on Thursday from noon to 5 p.m. Go to the WOU Residential Service Center (RSC) on all other days and times. The Ackerman Help Desk is on the ground floor right inside the southeast entrance to the building. The RSC is located on the lower level of the north end of the Valsetz Dining Hall and houses the Conference Services Office. Their staff are on duty from 7:30 a.m. to midnight every day. Please plan to check-in during those times. If you know you will arrive after midnight, please arrange for a friend to pick up your room keys and let you in, or contact Zimfest at to make arrangements for key pickup. In case of an emergent situation after midnight, signs posted at the RSC will indicate after-hours numbers to reach student staff who are on call. You may contact the RSC at (503) 838-8363 during normal working hours.
You must be out of your rooms no later than noon on the day that you depart. You may check out of your housing by turning your key, fob and meal card in at the RSC anytime during their working hours. A box will be placed in the Zimfest Registration area for your convenience to turn in keys and cards on Sunday and Monday mornings.
Lost Key Charges: $75 will be charged for each Ackerman Hall room key and fob that is not turned in; the fee for a non-returned Butler fob and key is $50. Please turn in your key, fob and meal cards upon departure – do not leave them in the rooms!
If you have any questions about Zimfest housing at Western Oregon University, contact – please do not call or e-mail WOU personnel.
Online registration for housing (including camping) and meals must be completed and paid for by Saturday, July 20, 2019.