Hello Portland-area marimba lovers,
Put on your dancing shoes and help MyLinda King and her marimba students raise money for Zimfest and four different charities working in Zimbabwe!
When: Saturday April 6, 2019
12:00 PM – 3:30 PM
Where: Alongsiders Church
2830 NE Flanders St.
Portland, Oregon 97232
Why
An amazing raffle and silent auction will benefit Zimfest 2019, offsetting travel costs for Zimbabwean musicians coming to the festival. This year's Africa-inspired quilt (quilt4africa.com) will benefit Tariro, Ancient Ways, Portland-Mutare Sister City and Unicef, all charities working in and for Zimbabwe.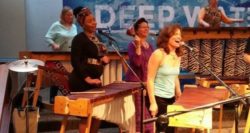 FIVE marimba bands playing music from Zimbabwe, Botswana and South Africa.
FIVE non-profits working on behalf of Zimbabwe and Zimbabweans.