Hello  Zimfesters,
We are pleased to call your attention to Taffie Matiure's GoodVibes Concert, a fundraiser to establish a mbira school for children in the Ruwa Community in Zimbabwe. The live broadcast will be held on September 5, 2020 on Taffie's Youtube page starting at 12pm PT/ 3pm EST/ 20 CAT. The event is co-sponsored by Zimbuya.com, and during the broadcast a link to their website donations page will be shared.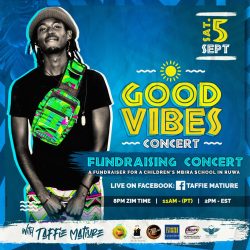 The Zimfest Online live presentations are over for now, but for those of you who missed one or more, we will be providing online access to the video recordings. Be on the lookout for Zimfest Online Registration to open by September 8 for recordings of the first three presentations in June. 
Enjoy the summer days! 
Zimfest Online crew