7:30 p.m. to Midnight, August 14, 2016
Pacific Room, WUC (Ticketed)
7:30 – 7:55 PM
Highlight Performances: MhandeFest
MhandeFest brings together three teachers and their students to celebrate mhande drumming, singing and dancing. Originally from the Midlands province, mhande is drummed, danced and sung to pray for rain and bless the seeds before planting. Students from these three Zimfest workshops join their teachers onstage in an exuberant demonstration of what they learned:
Mhande Dancing with Kanukai Chigamba (All Levels, Session 5)
Mhande Singing with Moyo Mutamba (All Levels, Session 6)
Mhande Drumming with Musekiwa Chingodza (All Levels, Session 3)
8:05 – 9:05 PM
Shamwari Tamba
Boulder, CO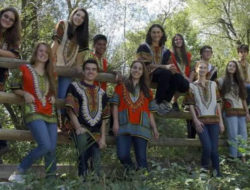 Shamwari Tamba is a young adult marimba ensemble based in Boulder, Colorado. The members range from ages 15 to 18 and each musician has upwards of eight years of experience. The band plays a wide variety of music and regularly performs at local festivals, radio shows and small businesses. Having the opportunity to learn from native Zimbabwean artists, the band plays traditional Southern African music along with modern-day compositions by artists such as Chris Berry and Randy McIntosh. The variety of music fuses the traditional music of Zimbabwe with high-energy contemporary arrangements.
9:15 – 9:35 PM
Russ Landers (chipendani)
Oakland, CA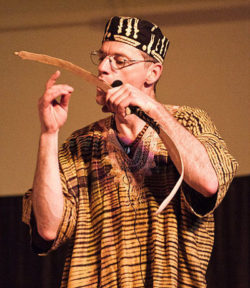 Russ Landers plays and teaches Zimbabwean traditional music for mbira, chipendani (mouth bow), marimba and ngoma. He grew up in a musical family that sang and played a lot of music together. Introduced to Zimbabwean traditional music in 1983, he has been inspired by many artists both in the US and on extended visits to Zimbabwe. Through these experiences he became passionate about celebrating, strengthening and cultivating the many beautiful cultural traditions around the world. A resident of Oakland, California, he is a lead musician for the Chinyakare Ensemble.
9:45 – 10:45 PM
Njuzu Mbira
Portland, OR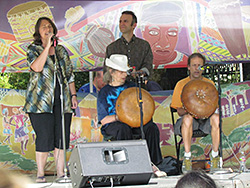 In love with this music, Njuzu Mbira was formed in 1998 by Nathan Beck and Marian Grebanier, sharing it in many venues over the years such as farmers' markets and street fairs, weddings, children's hospitals, the Oregon Country Fair and Zimfest.
10:55 – 11:55 PM
Hokoyo
Eugene, OR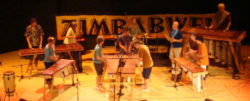 We are Hokoyo Marimba, playing traditional and contemporary Zimbabwean dance music on seven marimbas, traditional Zimbabwean mbira and drum set. Originally from Eugene, Oregon, we've become geographically distributed over the last few years, getting together to perform at Zimfests and occasional other events.