7:30 p.m. to Midnight,
August 12, 2016


Pacific Room, WUC (Ticketed)
7:30 – 8:30 PM
Ruzivo
Seattle, WA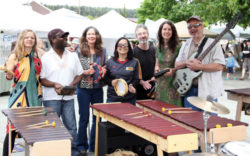 Ruzivo, derived from the Shona word meaning "wisdom," formed in 2004 and has grown over the years under the direction of Paul Mataruse, master marimba player from Zimbabwe. Ruzivo plays a mix of Zimbabwean traditional music and compositions from Mataruse and other band members inspired by the Afropop sounds from Mataruse's native country. The band features four marimbas (soprano, alto, tenor and baritone), electric bass guitar, mbira and drum kit. What emerges is an infectious sound that always gets the audiences dancing and singing along. Ruzivo's lyrics are part social commentary, part celebration and fully steeped in the traditional Shona repertoire of Zimbabwe. Some songs are direct adaptations of the 1,000-year-old mbira music, while some are more contemporary compositions emergent from the mixing of cultures as the Bantu peoples migrated from Central Africa into modern day Zimbabwe, South Africa, Zambia and Botswana. Ruzivo has performed across the US, Canada and Zimbabwe.
8:40 – 9:40 PM
Anzanga Marimba Ensemble
Seattle, WA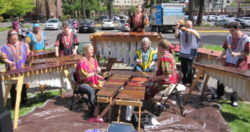 Anzanga Marimba Ensemble has entertained and enlightened audiences for 29 years. The group has toured extensively throughout the US, parts of Canada and internationally with tours in China and South Africa. Under the direction of Sheree Seretse, Anzanga has produced five recordings, some in circulation today.
9:50 – 10:50 PM
Musekiwa Chingodza
Zimbabwe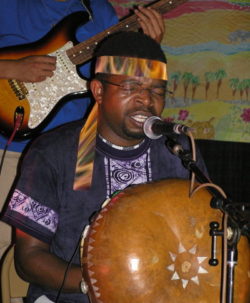 Musekiwa Chingodza was born into a family of great mbira players in Mwangara village, Murewa, Zimbabwe, in 1970. He began playing mbira at the age of five and is self-taught. Through listening to other gwenyambira, or great mbira players, he developed a strong attachment to and love for mbira music. He says, "Our music is both medicine and food, as mbira has the power to heal and to provide for people. Mbira pleases both the living and the dead." In 1991 Musekiwa was a key member of the band Panjea, founded by Chris Berry. He formerly taught mbira at Prince Edward School in Harare for many years, and continues to be in demand to play mbira at ceremonies in Zimbabwe. Since 1999, he has been a regular visitor to the US, sponsored biennially by Kutsinhira Cultural Arts Center in Eugene, Oregon. Kutsinhira considers Musekiwa to be one of their primary teachers, as well as one of the greatest living mbira musicians. Musekiwa is an excellent singer, dancer and drummer, and plays both mbira dzavadzimu and nyunga nyunga. He arranges and teaches Zimbabwean-style marimba and loves to work with children, youth and adults. He has recorded five CDs, the latest release being Tomutenda Mambo (with Bud Cohen, 2011). Musekiwa is also an accomplished ngoma (drum) player in the Shona tradition, and he excels in playing hosho (gourd shakers), singing, marimba and traditional dance. He is very experienced at teaching all of these skills to North Americans in a friendly and supportive way. With his engaging personality, gentle teaching style, virtuoso mbira-playing ability and deep immersion in his culture, he is almost always asked to come back for repeat visits.
11:00 PM – Midnight
Ande Marimba
Santa Fe, NM
Since their start as young students of Zimbabwean music, members of Ande Marimba, based out of Santa Fe, New Mexico, have considered GRAMMY Award-winner Chris Berry one of their most influential teachers. Now, many years later, these two forces have come together in collaboration. In December of 2015, the group members, now living in different locations around the US, met up for three weeks at Chris's home on the big island in Hawaii to record a CD. In the summer of 2016, they are embarking on an album-release tour, sharing and performing their unique style of marimba and mbira playing, unlike anything ever heard on these instruments before.