Noon to 5:30 p.m.,
August 14, 2016


Outdoor Stage at The Grove (Free)
Noon – 12:45 PM
Marimba Jam
Curated by Paul Mataruse and Tendai Muparutsa
12:50 – 1:35 PM
Kuzanga Marimba
Santa Cruz, CA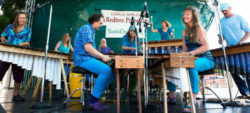 Kuzanga Marimba has been playing our polyrhythmic, high-spirited music since 1994 for diverse groups throughout California and occasionally in the Pacific Northwest, with a tradition of performing at the Cabrillo Music Festival and First Night Monterey. Our polyrhythmic music is drawn from the Shona people of Zimbabwe. Each song tells a story that the band is happy to share with the audience. We play marimba arrangements based on traditional vocal and mbira music, as well as contemporary pieces composed specifically for marimba, including fun pieces we have learned at Zimfest.
1:40 – 2:25 PM
Simba Youth Marimba Ensemble
Seattle, WA
Simba Youth Marimba Ensemble has been performing for five years. The group ranges in age from 12 to 16 and has performed exclusively in Washington State at cultural festivals, schools and private events. They recently auditioned for the television show America's Got Talent.
2:30 – 3:15 PM
Tsoko
Hood River, OR
Tsoko is a youth marimba band from Hood River, Oregon. Their ages range from 10 to 17 and they love to play music together! They have played at Zimfest once before and are excited to be back.
3:20 – 4:05 PM
Titandare
Boulder, CO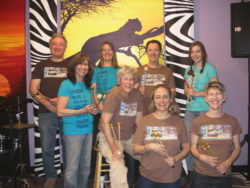 Our group has played together for almost five years at the Kutandara Marimba Center with Randy McIntosh as our teacher. We perform at benefits and community gatherings.
4:10 – 4:55 PM
Magwenyambira eNorthwest
Curated by Claire Jones
5:00 – 5:30 PM
Highlight Performances
Students from two Zimfest workshops join their teachers onstage in an exuberant demonstration of what they learned.
Peace for Africa with Simba Kamuriwo (Advanced Marimba, Session 7)
Ndebele Mixed Voice Singing with Lucky Moyo (All Levels, Session 1)