Ande Marimba
Santa Fe, NM
Since their start as young students of Zimbabwean music, members of Ande Marimba, based out of Santa Fe, New Mexico, have considered GRAMMY Award-winner Chris Berry one of their most influential teachers. Now, many years later, these two forces have come together in collaboration. In December of 2015, the group members, now living in different locations around the US, met up for three weeks at Chris's home on the big island in Hawaii to record a CD. In the summer of 2016, they are embarking on an album-release tour, sharing and performing their unique style of marimba and mbira playing, unlike anything ever heard on these instruments before.
Anzanga Marimba Ensemble
Seattle, WA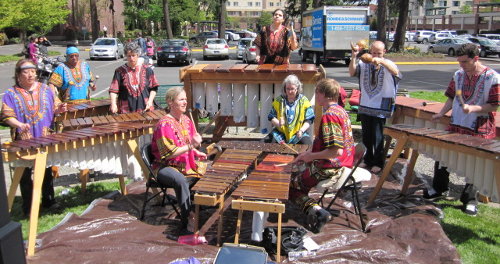 Anzanga Marimba Ensemble has entertained and enlightened audiences for 29 years. The group has toured extensively throughout the US, parts of Canada and internationally with tours in China and South Africa. Under the direction of Sheree Seretse, Anzanga has produced five recordings, some in circulation today.
Boka Marimba
Portland, OR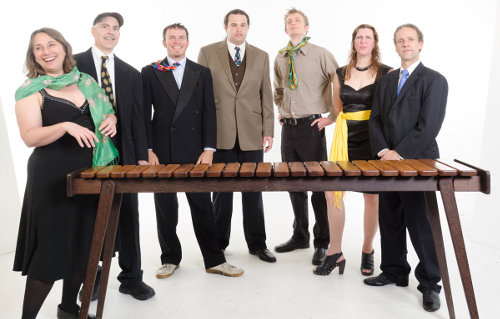 Boka Marimba is Portland's original African-style marimba band. They have been thrilling audiences in the Pacific Northwest with the exuberant music of Zimbabwe and Southern Africa for more than 20 years. Boka's blending of marimbas with percussion, drum set and vocals is upbeat, danceable, fun to watch and appeals to listeners of all ages. The members of Boka Marimba have diverse musical credentials, including backgrounds in jazz, percussion and voice, but they all share a love for Shona music. The sheer pleasure of playing is the glue that bonds the band together, and the desire to share this music with others is the fuel that fires Boka Marimba.
Chihera
Denver, CO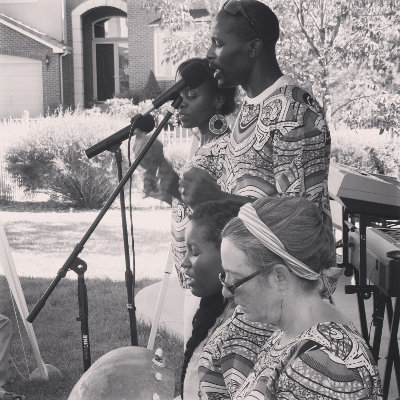 Chihera is the Muchineripi family band, originally from Zimbabwe. The band's name comes from the traditional family totem. The band consists of Chipo Muchineripi, Farai Muchineripi, Chiedza Muchineripi, Mandy Dube-Muchineripi, Tafadzwa Muchineripi and Mary Ellen Garrett. Chihera plays, arranges and composes Zimbabwean traditional and contemporary music using mbira, marimbas and piano. Chihera has performed many shows around Denver and Boulder, Colorado.
Musekiwa Chingodza
Zimbabwe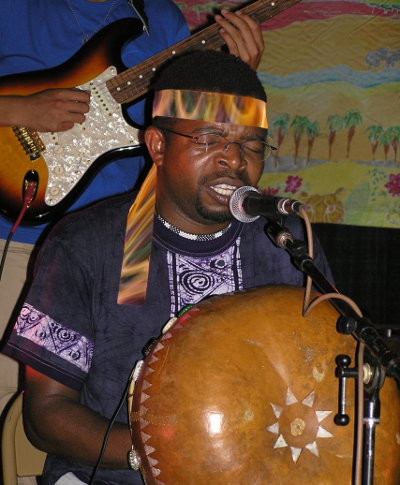 Musekiwa Chingodza was born into a family of great mbira players in Mwangara village, Murewa, Zimbabwe, in 1970. He began playing mbira at the age of five and is self-taught. Through listening to other gwenyambira, or great mbira players, he developed a strong attachment to and love for mbira music. He says, "Our music is both medicine and food, as mbira has the power to heal and to provide for people. Mbira pleases both the living and the dead." In 1991 Musekiwa was a key member of the band Panjea, founded by Chris Berry. He formerly taught mbira at Prince Edward School in Harare for many years, and continues to be in demand to play mbira at ceremonies in Zimbabwe. Since 1999, he has been a regular visitor to the US, sponsored biennially by Kutsinhira Cultural Arts Center in Eugene, Oregon. Kutsinhira considers Musekiwa to be one of their primary teachers, as well as one of the greatest living mbira musicians. Musekiwa is an excellent singer, dancer and drummer, and plays both mbira dzavadzimu and nyunga nyunga. He arranges and teaches Zimbabwean-style marimba and loves to work with children, youth and adults. He has recorded five CDs, the latest release being Tomutenda Mambo (with Bud Cohen, 2011). Musekiwa is also an accomplished ngoma (drum) player in the Shona tradition, and he excels in playing hosho (gourd shakers), singing, marimba and traditional dance. He is very experienced at teaching all of these skills to North Americans in a friendly and supportive way. With his engaging personality, gentle teaching style, virtuoso mbira-playing ability and deep immersion in his culture, he is almost always asked to come back for repeat visits.
The Chinyakare Ensemble
Oakland, CA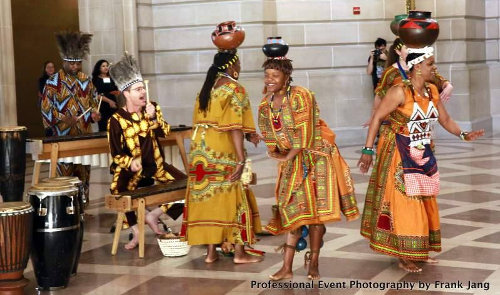 The Chinyakare Ensemble is a family of musicians, dancers and teachers committed to preserving and sharing traditional Zimbabwean culture, and promoting community building and education through music and dance. Chinyakare presents an electrifying performance of the traditional dance, music and culture of Zimbabwe and Southern Africa. The music (played on mbira, ngoma, marimbas and chipendani), songs and dance weave colorful stories that show scenes from everyday life, while teaching important life lessons, such as goal setting, perseverance and thankfulness. Chinyakare provides audiences with a glimpse of the beauty, excitement and spirit of traditional African dance and song.
Hokoyo Marimba
Eugene, OR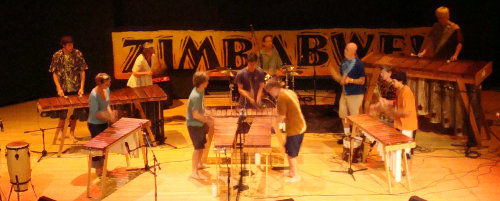 We are Hokoyo Marimba, playing traditional and contemporary Zimbabwean dance music on seven marimbas, traditional Zimbabwean mbira and drum set. Originally from Eugene, Oregon, we've become geographically distributed over the last few years, getting together to perform at Zimfests and occasional other events.
Kudana
Eugene, OR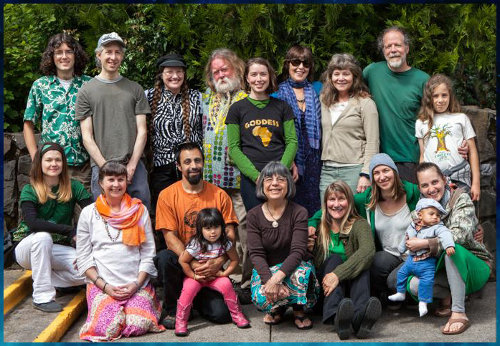 Kudana means "to love one another" in the Shona language of Zimbabwe. This describes the essence of Kudana Marimba: to unite people with the heart and spirit of the whole planet. Using seven marimbas, singing, drums and percussion, our group invites enthusiastic participation in joyful dance! The melodic, spiritual music of Zimbabwe inspired band founder Ong Kar Walen to form Kudana in 1987. Our energetic, visually engaging performances of traditional and original songs create an uplifting experience.
Kuungana
Bellingham, WA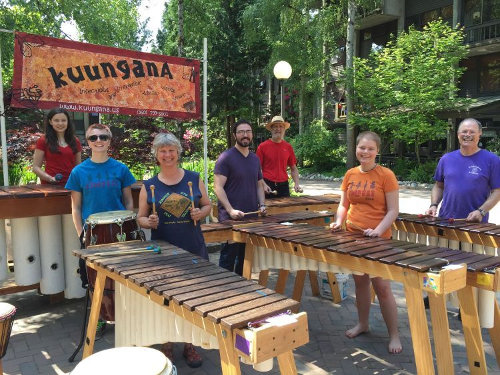 Kuungana is a Shona (and Swahili) word that means "connect" or "join." We are a multi-generational band loving to share our unique collective arrangements of vibrant traditional, contemporary Zimbabwean and pan-African inspired music. With marimba, hosho, drums, vocals and occasionally mbira and other instruments, we create a fun and inspired sound that connects us to our audiences. We started in 2010 with three former members of the now retired Juba Marimba (Deb, John and Tedd), and three current and former members of The Big Bad Monkeys, a youth marimba band (Adrienne, Maya and Mo). We recently added Shea, a former Big Bad Monkey, and Aja Moon from Kuva Rhythm Project. Our performances are filled with energy and our music is upbeat, danceable and fun for all ages! After an amazing performance that followed an intense rainstorm at Zimfest 2015, several people said that we should have been playing the night stage!
Kuzanga Marimba
Santa Cruz, CA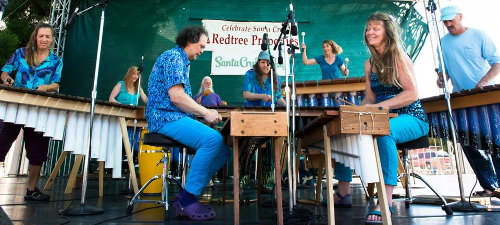 Kuzanga Marimba has been playing our polyrhythmic, high-spirited music since 1994 for diverse groups throughout California and occasionally in the Pacific Northwest, with a tradition of performing at the Cabrillo Music Festival and First Night Monterey. Our polyrhythmic music is drawn from the Shona people of Zimbabwe. Each song tells a story that the band is happy to share with the audience. We play marimba arrangements based on traditional vocal and mbira music, as well as contemporary pieces composed specifically for marimba, including fun pieces we have learned at Zimfest.
Russ Landers
Oakland, CA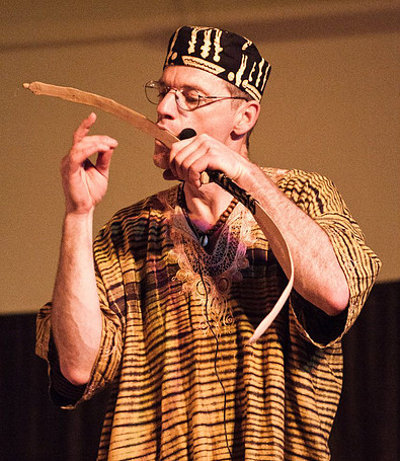 Russ Landers plays and teaches Zimbabwean traditional music for mbira, chipendani (mouth bow), marimba and ngoma. He grew up in a musical family that sang and played a lot of music together. Introduced to Zimbabwean traditional music in 1983, he has been inspired by many artists both in the US and on extended visits to Zimbabwe. Through these experiences he became passionate about celebrating, strengthening and cultivating the many beautiful cultural traditions around the world. A resident of Oakland, California, he is a lead musician for the Chinyakare Ensemble.
Mbira Renaissance
Edmonton, AB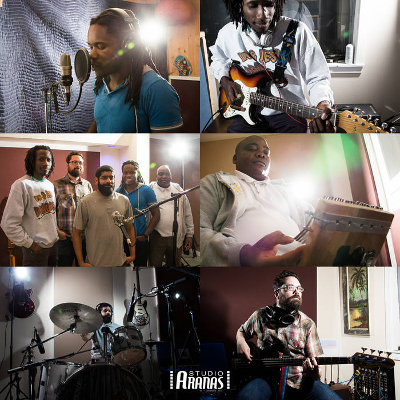 Based in Edmonton, Canada, Mbira Renaissance gives original flair to the rich, ancient, classical musical genre that is mbira. Maintaining the genre's musical traditions, the group sings primarily in the Shona language of Zimbabwe. The music is delicate yet upbeat; the bass lines and reggae rifts are interwoven with jazzy melodies, and the polyrhythm of the traditional Zimbabwean mbira sets the delicate foundation for the pieces. The band has performed at many locations in Alberta, Canada, including the North Country Fair in Lesser Slave Lake and The Works International Visual Art and Design Festival.
Mhondoro Marimba
Eugene, OR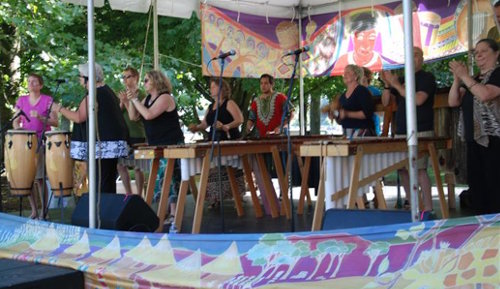 Mhondoro is a Eugene, Oregon-based marimba band that plays the buoyant and spirited music of Zimbabwe. The music, which inspires audiences to leap to their feet to dance, sing and clap, is played on wooden marimbas, drums and hosho (shakers) with singing and the occasional cowbell. Members of Mhondoro are Ken Blanchard, Charlene Talkington, Dennis Urso, Janis Weeks, Lynne Swift, Janese Olalde, Janine Etherington, Jose Olalde, Toni Timmers and Barb McWilliam. We are joined by Alex Weeks, Jake Roberts and Musekiwa Chingodza whenever possible. Mhondoro has played for the Eugene Celebration, the Bach Festival, Saturday Market, Oregon Country Fair, the Zimbabwean Music Festival and many other public and private celebrations including weddings, anniversaries and birthday parties. On request, we can teach a simple song for your guests to learn and play on the spot!
Moscow Charter School Marimba Club
Moscow, ID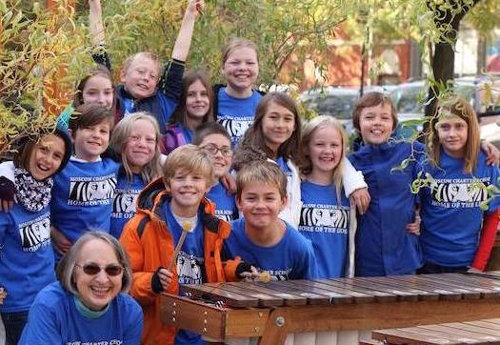 The Moscow Charter School Marimba Club has been in existence for five years. We have performed in Moscow, Idaho, during summer Farmers' Markets downtown, at annual school Winter Festivals and our annual musical theatre performances at Moscow High School. Most recently we performed at the annual Sigma Alpha Iota Musicale at the Lionel Hampton School of Music at the University of Idaho, the only children to do so, in the company of adult performers who are music alumni and professors of music at the university. Our students in the more advanced group range in age from seven through 12 years. They play in both tsaba and minanzi or mbira styles, and one of our students has composed a tune in compound meter which we would like to present at Zimfest this year. MCS music teacher Mary Donohoe has performed with Chiroto Marimba since its inception in 2007. Chiroto performed regularly at Zimfest during evening performances until 2013, when their leader Tendai Muparutsa took a position at Williams College in Williamstown, Massachusetts. Tendai has come back to the West to teach our students at Moscow Afro Music Camp for the last three years.
Mudzidzi Mbira
Eugene, OR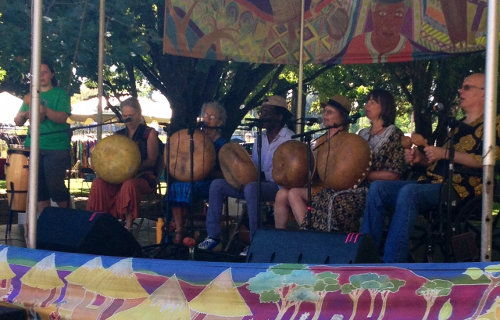 Mudzidzi ("learner" in Shona) is a mbira ensemble from Eugene, Oregon. We play in a variety of tunings and our repertoire consists of classic Shona music. We have played together for many years and have been privileged to study under many mbira masters from Zimbabwe and North America. Our current Zimbabwean teacher and band member is Chaka Mhembere. He has toured the world playing in Thomas Mapfumo's band and we are blessed to have his depth and virtuosity added to our sound and spirit. Besides featuring several mbira players, we also incorporate hosho and singing into our pieces. In addition to Chaka Mhembere, group members include Nel Applegate, Suma Elan, Karen Kline, Jeff Muiderman and Wanda Walker.
Musha Marimba
Spokane, WA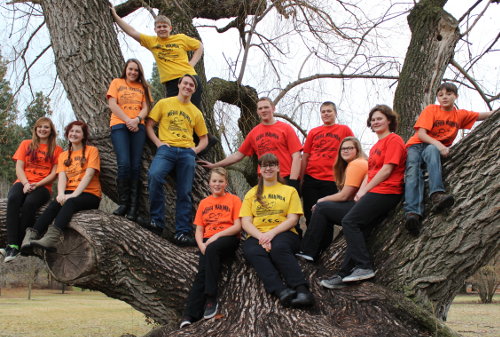 Musha Marimba is a student group from Bryant School, part of Spokane Public Schools in Spokane, Washington. The students are part of a parent partnership program that allows them to divide their time between taking classes at the school and schooling at home. The marimba program at Bryant was started seven years ago in order to bring traditional music to the students. We started with one class of 10 students and it has grown into a K-12 program serving 120 students, with the most advanced group being Musha Marimba.
Njuzu Mbira
Portland, OR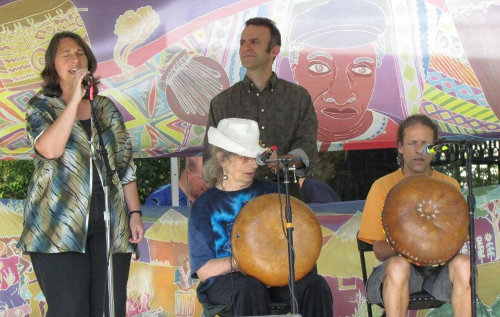 In love with this music, Njuzu Mbira was formed in 1998 by Nathan Beck and Marian Grebanier, sharing it in many venues over the years such as farmers' markets and street fairs, weddings, children's hospitals, the Oregon Country Fair and Zimfest.
Nyemwerero
Boulder, CO and Zimbabwe
Nyemwerero ("the way you smile") has come together for Zimfest 2016 to feature Musekiwa Chingodza and share his mbira music and songs. Musekiwa will be joined by his long-time students Catherine Hunziker on mbira and David Schaldach on bass guitar as well as guest artist Zivanai Masango on guitar. We come together with Musekiwa to celebrate his delightful music and great energy!
Ruzivo
Seattle, WA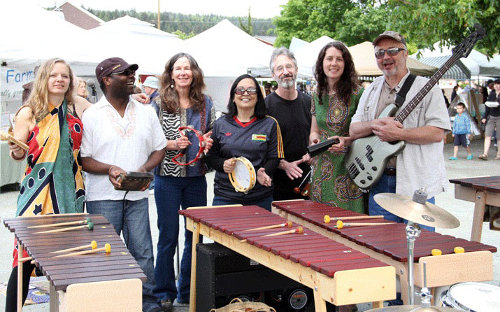 Ruzivo, derived from the Shona word meaning "wisdom," formed in 2004 and has grown over the years under the direction of Paul Mataruse, master marimba player from Zimbabwe. Ruzivo plays a mix of Zimbabwean traditional music and compositions from Mataruse and other band members inspired by the Afropop sounds from Mataruse's native country. The band features four marimbas (soprano, alto, tenor and baritone), electric bass guitar, mbira and drum kit. What emerges is an infectious sound that always gets the audiences dancing and singing along. Ruzivo's lyrics are part social commentary, part celebration and fully steeped in the traditional Shona repertoire of Zimbabwe. Some songs are direct adaptations of the 1,000-year-old mbira music, while some are more contemporary compositions emergent from the mixing of cultures as the Bantu peoples migrated from Central Africa into modern day Zimbabwe, South Africa, Zambia and Botswana. Ruzivo has performed across the US, Canada and Zimbabwe.
Sarungano
Whidbey Island, WA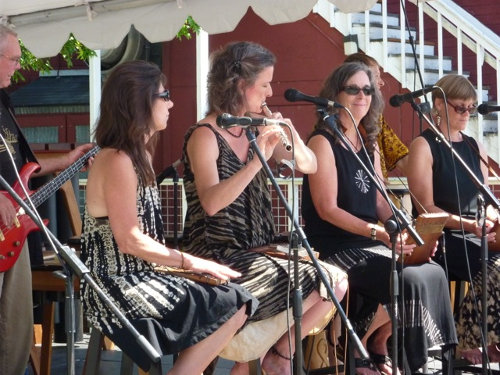 Sarungano is a four-piece vocal and mbira ensemble that performs traditional and contemporary songs from Zimbabwe. Inspired and informed by a respected list of Zimbabwean musicians, Sarungano brings to the fore a rich tapestry of call and response combining circular melodic lines from the mbira with rich vocal harmonies in the Shona language. Sarungano members are Dana Moffett, Dyanne Harshman, Leslie Breeden and Donita Crosby. Sarungano was born out of the Rubatano Center on Whidbey Island, Washington, and was inspired by the active Zimbabwean musical community in the Northwest and beyond. Sarungano keeps ongoing connections with its many teachers while it aims to share the stories of Zimbabwean culture through music and song. Their name, Sarungano, is the Shona word for "storyteller." Sarungano's many teachers include Paul Mataruse, Tendai Muparutsa, Jacob Mafuleni, Martha Thom, Musekiwa Chingodza, Mbira dzeMuninga, Piwai Magaya and Hope Masike, just to name a few.
Sellwood Marimba Ensemble
Portland, OR
The Sellwood Marimba Ensemble was started 16 years ago by Heidi Perry. A math teacher with a passion for marimba, Heidi started marimba at Sellwood Middle School. Over the years Sellwood has performed in the Portland, Oregon, community at such events as the Rose Festival, the Festival of Flowers and benefits for Portland Parks & Recreation and United Cerebral Palsy (as well as many others). The ensemble is now under the direction of Nathan Beck.
Shamwari Tamba
Boulder, CO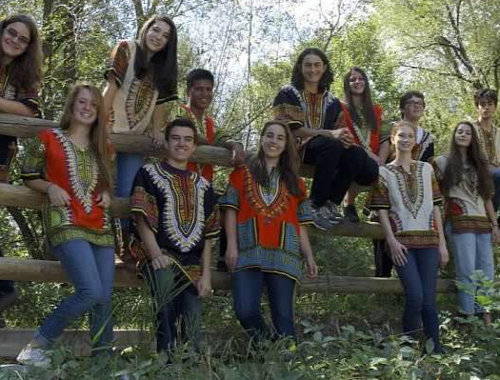 Shamwari Tamba is a young adult marimba ensemble based in Boulder, Colorado. The members range from ages 15 to 18 and each musician has upwards of eight years of experience. The band plays a wide variety of music and regularly performs at local festivals, radio shows and small businesses. Having the opportunity to learn from native Zimbabwean artists, the band plays traditional Southern African music along with modern-day compositions by artists such as Chris Berry and Randy McIntosh. The variety of music fuses the traditional music of Zimbabwe with high-energy contemporary arrangements.
Simba Youth Marimba Ensemble
Seattle, WA
Simba Youth Marimba Ensemble has been performing for five years. The group ranges in age from 12 to 16 and has performed exclusively in Washington State at cultural festivals, schools and private events. They recently auditioned for the television show America's Got Talent.
Supadupa Marimba Bros
Portland, OR
Supadupa Marimba Bros started as a youth band at the Metropolitan Learning Center, a Portland, Oregon, public school where Eric Miller still teaches marimba. Thirteen years later, they've stayed together as a band and perform their exciting and original style of marimba around the Pacific Northwest.
Titandare
Boulder, CO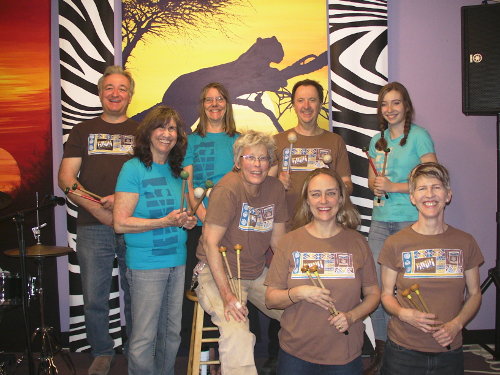 Our group has played together for almost five years at the Kutandara Marimba Center with Randy McIntosh as our teacher. We perform at benefits and community gatherings.
Tsoko
Hood River, OR
Tsoko is a youth marimba band from Hood River, Oregon. Their ages range from 10 to 17 and they love to play music together! They have played at Zimfest once before and are excited to be back.
Vana Vedu
Boulder, CO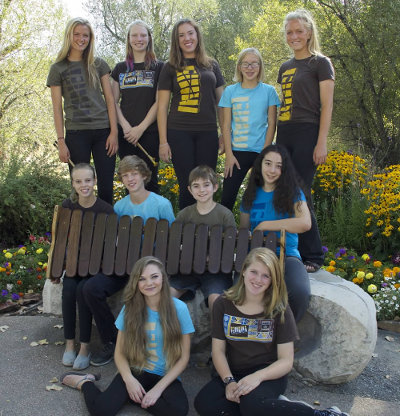 We are a teen performance group from Colorado called Vana Vedu, which means "Our Children." We perform Zimbabwean-style marimba around Colorado's Front Range and use a nine-piece marimba orchestra, often accompanied with drum set and percussion. Many of us have been playing marimba for years at the Kutandara Center in Boulder, Colorado, and we have been playing together as a group for about a year now. The youngest member in our group will be entering 8th grade this school year and we have several members headed to their first year in college. We all have a passion for music and love being able to share that passion with anyone who will listen.
ZiMBiRA
Boulder, CO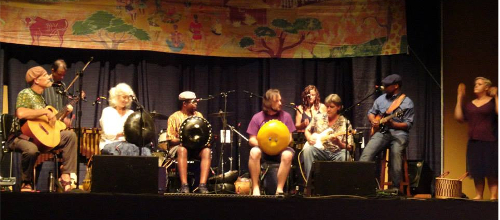 ZiMBiRA revels in the traditional and contemporary music of Zimbabwe. The music is grounded in the mbira and the beat of the hosho, and evolves as the beautiful lines are reflected on the guitar, marimba and other instruments of the moment, which may include mbira, karimba, ukelele, bass guitar, hosho, vocals, hand drums and kit drums.