Music Dancing Across Borders
Zimfest 2019 was held August 8-11 at Western Oregon University in Monmouth, Oregon. A family-friendly three-day cultural festival, Zimfest has something for everyone: Dynamic concerts, fun educational workshops, African marketplace and more.
We were pleased to return to the festival-friendly WOU campus, nearly equidistant from Portland and Eugene. The Monmouth area, in the heart of Oregon's wine country, is also a great point of departure for day trips exploring the beautiful Willamette Valley or heading west to the Oregon coast.
Announcing Zimbabwean Guests at Zimfest 2019
Zimfest 2019 welcomed our first-ever female Zimbabwean marimba specialist, Tafadzwa "Zwa" Gapara! A graduate of Midlands State University in musicology, Zwa spent several years touring in South Africa with the Royal Vibrations Marimba Band and Soweto Gospel Choir and is now teaching in Bulawayo. Also new to Zimfest was Kelvin Chikumbirike, a Harare music educator who has taught nyunga nyunga and marimba at a number of institutions including the Jairos Jiri Association, working with disabled individuals. Kelvin is currently engaged in a project teaching nyunga nyunga to homeless youth and inmates.
Returning to Zimfest after an absence of four years was mbira player, dancer, drummer and singer Patience Munjeri, coming from Chinoyi, Zimbabwe. Gwenyambira Alois Mutinhiri also joined us from Zimbabwe, as did the multi-talented Tafadzwa Matiure. Dancer and multi-instrumentalist Napoleon "Kudzi" Jambwa and marimba teacher extraordinaire Michael Sibanda both came from South Africa.
We welcomed back Zimbabwean-US residents Zivanai Masango (Boulder); the Muchineripi family band Chihera (Denver); Tapiwa and Victoria Kapurura and family (Salem); and Chaka Mhembere and Gilbert Zvamaida (both from Eugene).
Music Dancing Across Borders
The Zimfest Association Board has chosen to carry over the 2018 theme, "Music Dancing Across Borders" for Zimfest 2019. Considering that circumstances for immigrants and citizens both here in the United States and in Zimbabwe continue to be under threat, we remain steadfast in the belief that music and dance are unifying forces around the world. We look forward to dissolving borders and creating togetherness at Zimfest 2019.
The 2019
Zimfest Design
We are proud to publish the original design for Zimfest 2019 by graphic artist Rachel Edson. Rachel writes of the artwork: "This design shows dancers cut out from Zimbabwean fabric. The lively color and texture of the fabric honor the joyful nature of this art form. The cutout dancers signify the unity found through movement, with the figures popping out of the borders in the fabric."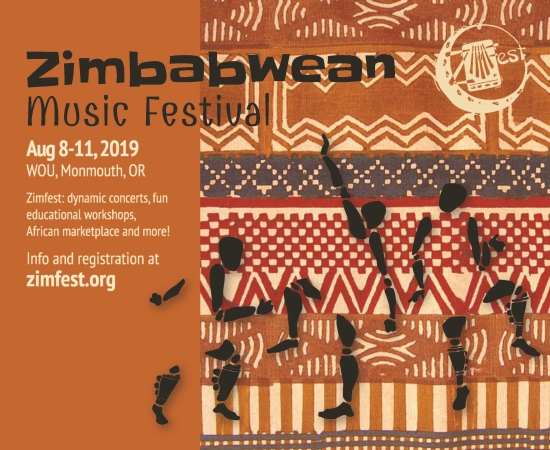 Teacher Interview – Gilbert Zvamaida
Zimfest volunteer Anesu Ndoro recently interviewed one of our new teachers, Gilbert Zvamaida, to learn more about his musical background and what he has to offer at Zimfest 2019.
Listen to what Gilbert has to say in the interview excerpt below,
or click here to listen to the full English interview on YouTube.