7:30 to 9:00 pm,
August 13, 2015


Outdoor Stage at The Grove (Free)
7:30 – 8:15 pm
Opening Ceremony
8:15 – 9:00 pm
Mbira Spirit
Mill Bay, B.C.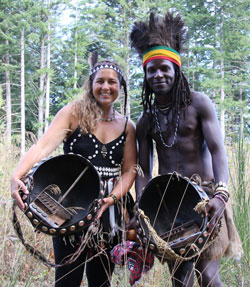 Mbira Spirit consists of Amy Matamba from Vancouver Island and Tafadzwa Matamba from Zimbabwe, with a powerful sound and vision of bridging communities between Canada and Zimbabwe. Together we are one. Playing African, folk, spiritual and gospel music, our performance is unforgettable. Enjoy our new release song "Ferry Me Home" (on YouTube) – a tribute to Vancouver Island (in B.C, Canada). It is being played on CBC, Zim Radio in Zimbabwe, and many stations on Vancouver Island.
Mbira Spirit believes that the power of music and the arts can change lives and we are taking action to make a positive change. All proceeds of our music and performance will go towards our twin Cultural Arts Centres on Vancouver Island, Canada, and Magunje, Zimbabwe. Our music, message and our presence are inspiring and bring hope to ALL who participate. "The music and song that you create as a loving couple is truly inspirational and SOUL LIFTING indeed! You are creating something unique and far reaching as no one else in these parts are making such wonderful, moving and magical moments with music," says Skyy Vancouver Coop Radio. Videos of Mbira Spirit Live!: Say it and Mahororo.