7:30 pm to Midnight,
August 16, 2015


Pacific Room, WUC (Ticketed)
7:30 – 8:30 pm
Festival Highlight Performance
8:40 – 9:40 pm
Pachi Pamwe
Portland, OR
Hailing from Portland, Oregon, Pachi Pamwe (chiShona for "we meet again") infuses Zimbabwean mbira music with their own poetry and American culture, creating a rich sound that is both soothing and energetic. Pachi Pamwe consists of Eric Miller on mbira and vocals, Matt Gordon on guitar, and Eric Orem on drums. Check out our music at: https://pachipamwe.bandcamp.com.
9:50 – 10:50 pm
ZiMBiRA
Boulder, CO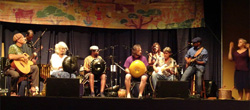 ZiMBiRA specializes in the traditional and contemporary music of Zimbabwe. The music is grounded in the mbira, its ancient repertoire and the beat of the hosho, and evolves as the beautiful lines are reflected on the guitar and marimba. Instrumentation of the moment may include mbira, karimba, guitar, ukelele, bass, marimba, hosho, vocals and hand and kit drums.
11:00 pm – Midnight
Hokoyo
Eugene, OR & elsewhere
We are Hokoyo Marimba, playing traditional and contemporary Zimbabwean dance music on seven marimbas, traditional Zimbabwean mbira and drum set. Originally from Eugene, we've become geographically dispersed over the last few years, getting together to perform at Zimfest and other occasional events.