Anzanga Marimba Ensemble
Seattle, WA
For 28 years Anzanga has been thrilling audiences around the globe. The Seattle-based ensemble has toured extensively throughout the U.S. and performed internationally in China, Canada and South Africa. The group has five recordings to its credit. Under the direction of Sheree Seretse, Anzanga has also made numerous appearances at Zimfest. The group is looking forward to being a part of the festivities this year.
Chris Berry
Pahoa, HI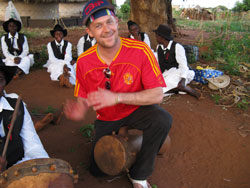 Grammy Award winner Chris Berry is an eclectic singer and songwriter, multi-instrumentalist virtuoso, and high-energy performer and teacher. From his humble beginning during Robert Mugabe's regime in Zimbabwe, he has blasted his powerful Afro-infused sound around the world for over 20 years, rocking audiences from NYC's Irving Plaza, to sold-out stadiums in South Africa and Sydney Australia's famous Opera House. He has released over a dozen albums; scored the soundtrack for three films; and has collaborated and performed with Eminem, Grateful Dead drummer Bill Kreutzmann, Senegalese Afro-Pop sensation Youssou N'dour, Cuban Legends Los Munequitos de Mantanzas, Paul Winter, Jamaican rhythm and production duo Sly and Robbie, Fugee's producer Handel Tucker and many more. Chris was born and raised in California and later took a ten-year journey to Africa, including eight years spent in Zimbabwe during the Mugabe regime. In Zimbabwe he studied the music of the Shona people. Chris has toured extensively as a frontman and bandleader in North and Central America, Australia, New Zealand, Russia, Asia and Africa. In the last few years Chris has collaborated with Steve Kimock, members of the Brazilian Girls, Baaba Maal, Thomas Mapfumo, Oliver Mtukudzi, Manu Dibango, Xavier Rudd, String Cheese Incident, Peter Apfelbaum, Zivanai Masango and Dom Lali. He worked with Pygmy people in the Central African Republic to record the soundtrack for the film "Oka!"
Bistro Marimba
Boulder, CO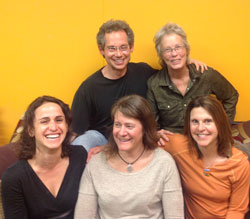 Bistro Marimba Quintet is a dynamic marimba band. Our passion for this music was ignited as students of the Kutandara Center with Randy McIntosh as our teacher. We play at coffeehouses, school functions, farmers markets and community events. We've had the pleasure of playing gigs with Daniel Lockley, Randy McIntosh, and Amy Stewart McIntosh. We believe that playing this music opens doors between cultures and generations, and brings joy to our audiences.
Boka Marimba
Portland, OR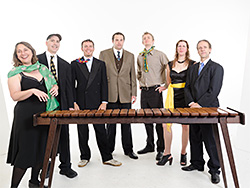 Boka Marimba is Portland's original African-style marimba band. They have been thrilling audiences in the Pacific Northwest with the exuberant music of Zimbabwe and Southern Africa for more than 20 years. Boka's blend of marimbas with drum set, percussion and vocals is upbeat, danceable, fun to watch, and appeals to listeners of all ages. The members of Boka Marimba have diverse musical credentials, including backgrounds in jazz, percussion, and voice, but they all share a love for Shona music. The sheer pleasure of playing is the glue that bonds the band together, and the desire to share this music with others is the fuel that fires Boka Marimba.
Samaita Botsa and Erica Azim
Murehwa, Zimbabwe, and Berkeley, CA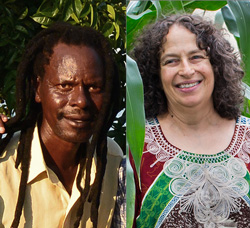 "Samaita" Vitalis Wilbert Botsa grew up in a Zimbabwean village family of singers and mbira players. An extremely accomplished mbira player, he creates complex waves of sound seemingly impossible from the two thumbs and one finger used to play mbira. Very traditional in his relationship to the "music of the ancestors," Botsa has performed at important ceremonies throughout Zimbabwe, and is featured on 5 CDs. This is his first U.S. tour, sponsored by MBIRA (mbira.org). Learn more about Samaita and see his videos at http://www.mbira.org/samaitabotsa.html.

Erica Azim has played Shona mbira music since she was 16, and has performed around the world. She has performed with many of Zimbabwe's greatest mbira players. Erica met Samaita in 2002, and has studied his unique style with him for the past several years. http://www.mbira.org/ericaazim.html
Chihera
Denver, CO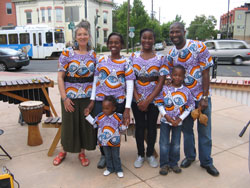 Chihera is the Muchineripi family band from Zimbabwe, now living in Colorado. The band consists of parents Obert Tafadzwa and Mandy Dube-Muchineripi, children Chipo Veronica, Farai Chamunorwa and Chiedza and friend and collaborator Mary Ellen Garrett. Chihera plays, arranges and composes Zimbabwean traditional and contemporary music using mbira, marimbas and keyboard. "Chihera," meaning a female eland similar to an antelope, refers to the family lineage and is daughter Chipo's stage name. Chihera has performed in Denver and Boulder in house concerts and community festivals, at Cleo Parker Robinson Dance and in schools. See samples on Chihera's youtube channel: https://www.youtube.com/channel/UCLG8YBvCJg6x45pewBARKnA
Hokoyo
Eugene, OR & elsewhere
We are Hokoyo Marimba, playing traditional and contemporary Zimbabwean dance music on seven marimbas, traditional Zimbabwean mbira and drum set. Originally from Eugene, we've become geographically dispersed over the last few years, getting together to perform at Zimfest and other occasional events.
Jekesa Marimba
Tacoma, WA
With members hailing from Japan, Zimbabwe and New Mexico, Jekesa Marimba represents a true fusion of cultures. The name "Jekesa" is chiShona for "light-bringer," and was formed from the names of the three core members (Je from Jeff, ke from Kensuke and sa representing Mandla's father's name). Their repertoire ranges from contemporary chimurenga and pop covers to traditional mbira music and marimba classics, all with a unique flavor due to the members' diverse styles and backgrounds.
Jenaguru
Eugene, OR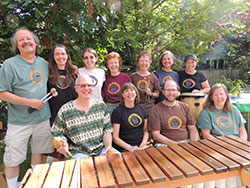 Jenaguru "Full Moon" Marimba was formed in 1998 at Kutsinhira Cultural Arts Center. Our members include Ryan Herlands, Karen Hyatt, Maggie Jones, Karen Kline, Craig LaFollette, Darlene Lashbrook, Jeff Muiderman, Nancy Novitski, Jake Roberts, Mandy Walker-LaFollette and Wanda Walker. We play Zimbabwean-style marimba embellished with drumming and singing. We have performed at the Eugene Celebration, Saturday Market, Oregon Bach Festival, Sam Bond's Garage, Cozmic Pizza, Oregon Country Fair, Zimfest, and many private events.
Kuungana
Bellingham, WA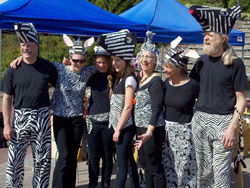 Kuungana is the word in Swahili and chiShona that means "to connect" or "join." Connecting African with Western, youth with elders, and traditional with contemporary, our band joins with our audience playing and singing this rich, polyrhythmic music on marimbas, hosho, mbira and drums. Formed in Bellingham in 2011 with former members of the long-standing Juba Marimba and the youth marimba band The Big Bad Monkeys, Kuungana has been rocking our performances ever since.
The Maharimbas
Corvallis, OR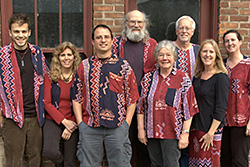 The Maharimbas is a nine-member band playing energetic African, Caribbean, contemporary and original music on marimbas and percussion. Their contagious dance rhythms will make you want to put your whole body in motion. The Maharimbas have been playing since 1987, when they spent a year working with OSU music professor Michael Coolen to get a foundation in the rich music of the Shona people of Zimbabwe. The Maharimbas' music has since grown to include pieces from many different countries, including Mexico, the Caribbean, Europe and New Orleans, as well as arrangements of Beatles tunes and original work. The Maharimbas have performed at the Oregon Aquarium, Hot Air Balloon Festival, Salem Art Fair & Festival, Oregon Country Fair, da Vinci Days, Corvallis Fall Festival, wineries, summer concerts in Roseburg, Woodburn, Monmouth, Salem, Sisters, Newport, and at many weddings and other private parties. They also performed at numerous venues during a cultural exchange trip to Uzhhorod, Ukraine, Corvallis's Sister City, in 2008. Marimba music is enjoyed by all ages. It is a sound that makes people feel happy.
Mahonyera Mbira Ensemble
Seattle, WA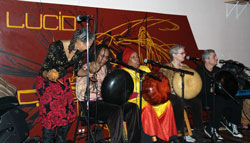 Mahonyera* Mbira Ensemble, founded in Seattle in 1991, performs traditional mbira music of the Shona people of Zimbabwe. Three to four mbira players perform complex interlocking patterns on the 22- to 24-key mbira dzavadzimu and are accompanied by hosho (gourd shakers) and vocals. The group performs annually at Zimfest and the Northwest Folklife Festival, at Seattle music clubs for African Music Nites and for private parties and events. Mahonyera members are: Claire Jones, Kevin Ugarte, Sheree Seretse, Phillip Page and Sooja Kelsey.
*Mahonyera, in the chiShona language, is a style of low-pitched syllabic singing. It also refers to "the sound of distant voices."
Clayton Master
Fort Collins, CO
My name is Clayton Tendai Master and I was born in Mbare, Zimbabwe. When I was in grade 6 in 1996, I started art in school and we did a dance called chinyambera. In 1997 I danced mbakumba and found myself interested in art, dance and music, so I joined a group named Savannah Arts. After a year I joined Lions of Zimbabwe. It was good as we were playing marimba, mbira, marimbira and traditional dances. Then in 2004 I moved from Harare to Victoria Falls where there were bigger opportunities to play at hotels and lodges, and for weddings and other functions. In 2009 I met the woman who is now my wife, and I applied for a visa to come to America. It finally came this year in February. We now own a hostel in Fort Collins and volunteer to teach people traditional dances of Zimbabwe.
Mateze Mana
Portland, OR

Mateze Mana, or "four deze," is an mbira group that started when two youngsters decided they would like to learn to play mbira. These youngsters joined Jim Loewenherz and Rosalie Brown-Lundh, learned to play, made their own dezes, joined workshops and camps to learn from other teachers and are now young adults. While Rosalie Brown-Lundh is still a music educator and Jim Loewenherz is still a luthier, Parker Ediger is now a senior at Tigard High School, an extraordinary saxophone player, and planning to pursue a career in music/music education; B'Elanna Rhodehamel is a freshman at the University of Alaska in Fairbanks, contemplating ethnomusicology while studying and pursuing a variety of interests including crevasse rescue, avalanche rescue training, and other outdoor activities.
Mbira Spirit
Mill Bay, B.C.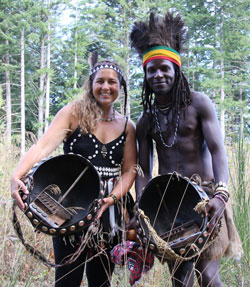 Mbira Spirit consists of Amy Matamba from Vancouver Island and Tafadzwa Matamba from Zimbabwe, with a powerful sound and vision of bridging communities between Canada and Zimbabwe. Together we are one. Playing African, folk, spiritual and gospel music, our performance is unforgettable. Enjoy our new release song "Ferry Me Home" – a tribute to Vancouver Island (in B.C, Canada). It is being played on CBC, Zim Radio in Zimbabwe, and many stations on Vancouver Island. You can enjoy it here: http://youtu.be/mauCrcVSFa0.

Mbira Spirit believes that the power of music and the arts can change lives and we are taking action to make a positive change. All proceeds of our music and performance will go towards our twin Cultural Arts Centres on Vancouver Island, Canada, and Magunje, Zimbabwe. Our music, message and our presence are inspiring and bring hope to ALL who participate. "The music and song that you create as a loving couple is truly inspirational and SOUL LIFTING indeed! You are creating something unique and far reaching as no one else in these parts are making such wonderful, moving and magical moments with music," says Skyy Vancouver Coop Radio. Videos of Mbira Spirit Live!: http://youtu.be/J7vgH8_dkrY "Say it," and http://youtu.be/2M7I_BjWlME "Mahororo."
Mhofu Marimba
Tigard-Tualatin, OR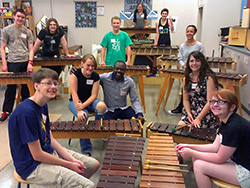 Mhofu Marimba plays the music of Zimbabwe and southern Africa. The group is made up of teen musicians in Oregon's Tigard and Tualatin community. Mhofu Marimba was named for the totem of Musekiwa Chingodza, a frequent guest teacher. Mhofu is a large African eland, and while being representative of Musekiwa Chingodza's totem, is also representative of the roots of the members' beginning marimba experience years ago at Deer Creek Elementary School, with the Bucks mascot. The group has been fortunate to work with visiting Zimbabwean musicians Musekiwa Chingodza, Irene Chigamba and Patience Musandirire. Mhofu Marimba has performed at several Zimfests, the Tualatin Crawfish Festival, Portland's Sand in the City event, education rallies and other community events. Mhofu Marimba is coached by Rosalie Brown-Lundh.
Mhondoro
Eugene, OR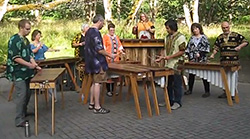 Mhondoro is a new marimba ensemble formed in 2014, and is a performing ensemble of the Kutsinhira Cultural Arts Center. We play traditional and contemporary music from Zimbabwe on marimba, mbira, drum and hosho. Past performances include the opening of Eugene's Saturday Market, benefits for various causes, community celebrations and private gatherings. Mhondoro members have performed in various ensembles over the past 20 years, have played at the Zimfest day stage for many years, and have arranged many of the pieces that we perform in addition to learning songs from Zimbabwean and American masters. We came together as a new group with a love to perform and share this wonderful music.
Kurai Blessing Mubaiwa
Vancouver, B.C.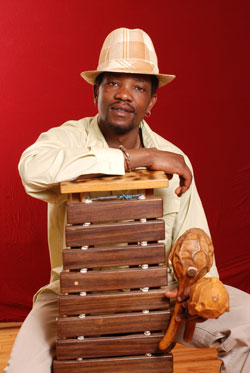 Kurai Blessing Mubaiwa was born in 1976 in the village of Mutimbanyoka, in Murewa district, Zimbabwe. He began playing mbira at age six, watching while his father, uncles and other village elders played mbira in traditional ceremonies. In 1994 Kurai moved to Harare and joined the cultural group Savannah Arts, where he learned to play marimba, trained as an actor and facilitated and coordinated the Streets Ahead program which focused on teaching street youth to play marimba. In 1995 he participated in The Youth Forum and taught cultural arts in Denmark. In 1998 Kurai toured West Africa and Europe with Chiwoniso Maraire and opened for Cesaria Evora. In 2000 he joined Theatre Talipot in Reunion Island performing in the production "Passage," which also toured South Africa, France and Scotland. Kurai immigrated to Vancouver in 2002, where he has performed with the Art Starts Program with several different groups at elementary, middle and high schools. After Kurai received his Canadian citizenship in 2008, he was able to go back on the road to perform at festivals such as WOMAD, Montreal Jazz Festival and Zimfest. In his solo performances he sings, dances and plays mbira, marimba, drums and other percussion instruments. Kurai also continues to perform as the lead musician with the groups ZimbaMoto and Zhambai Trio.
Mudzidzi
Eugene, OR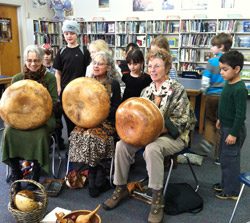 Mudzidzi ("learner" in chiShona) is a mbira ensemble that plays in a variety of tunings and our repertoire consists of classic Shona music. We have played together for many years and have been privileged to study under many mbira masters from Zimbabwe and North America. Our current Zimbabwean teacher and band member is Chaka Mhembere; he has toured the world playing in Thomas Mapfumo's band, and we are blessed to have his depth and virtuosity added to our sound and spirit. Other group members include Nel Applegate, Suma' Elan, Karen Kline, Jeff Muiderman and Wanda Walker.
Patience Chaitezvi Munjeri (Performing with Samaita Botsa)
Chinoyi, Zimbabwe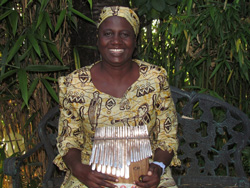 Patience Chaitezvi Munjeri, one of Zimbabwe's rare women mbira players, has played in traditional ceremonies since she was very young. Because her mother is a traditional healer and medium and her brothers also played mbira for the spirits, Patience grew up immersed in mbira music and deep Shona culture. She has also earned a bachelor's degree from Africa University in Mutare, Zimbabwe. Four successful tours through the US and Canada (2008 through 2013) confirm Patience's ability to convey musical as well as cultural content to her students. After each tour she returns to her family and teaching post in Chinhoyi, Zimbabwe. There, she teaches in a high school of 2,000 students, 765 of whom are orphaned. She advocates for these children and manages to work with a handful of mbira students between teaching her scheduled classes. Patience has also organized a successful music camp in Zimbabwe, bringing together international students with herself and four other excellent Zimbabwean music teachers at Kufunda Village Learning Centre.
Mutswi Wambuya
Eugene, OR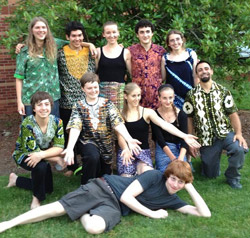 Mutswi Wambuya operates as a performing ensemble for Kutsinhira Cultural Marimba Center under the direction of Bud Cohen. Mutswi Wambuya means "rainbow" in chiShona and is also literally "the stick that grandmother uses to pound grain." Mutswi received our name from Musekiwa Chingodza during our first performance over 7 years ago. Since then many members have graduated and gone off to college, but we keep adding new talent and coming back together to rock out whenever possible.
Njuzu Mbira
Portland, OR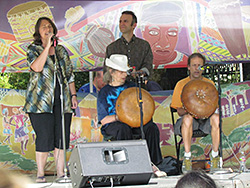 Njuzu Mbira was formed in 1998, the first ensemble of its kind in Portland, playing the enchanting, beautiful and lively traditional mbira music of some of the Shona people of Zimbabwe. Since then Njuzu Mbira has performed in various settings including schools, benefits, farmers markets, Oregon Country Fair, Oregon Zoo, Zimfest and pubs.
Pachi Pamwe
Portland, OR
Hailing from Portland, Oregon, Pachi Pamwe (chiShona for "we meet again") infuses Zimbabwean mbira music with their own poetry and American culture, creating a rich sound that is both soothing and energetic. Pachi Pamwe consists of Eric Miller on mbira and vocals, Matt Gordon on guitar, and Eric Orem on drums. Check out our music at: https://pachipamwe.bandcamp.com/
Ruzivo
Seattle, WA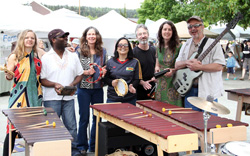 Ruzivo, led by Seattle-based Zimbabwean musician Paul Mataruse, plays high-energy Afro-pop music inspired by Zimbabwean and South African traditional and contemporary tunes. Ruzivo combines four marimbas with bass guitar, trap set and mbira, the traditional instrument from Mataruse's native Zimbabwe. The band plays a mixture of original compositions and arrangements of traditional and contemporary music from Southern Africa. Ruzivo is: Paul Mataruse, Dana Moffett, Jocelyn Moon, Zack Moon, Rose Orskog and Hannah Weatherford.
Sellwood Marimba Band
Portland, OR
Sellwood Marimba Ensemble was started 16 years ago by Heidi Perry, a math teacher with a passion for marimba. Over the years Sellwood has performed in the Portland community at such events as the Rose Festival, the Festival of Flowers, and benefits for Portland Parks & Rec and United Cerebral Palsy, as well as many others. The ensemble is now under the direction of Nathan Beck.
Shamwari Tamba
Boulder, CO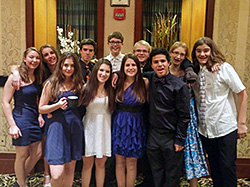 Shamwari Tamba is an evolving youth performance marimba ensemble consisting of high school students from the ages of 14-18. The teen performers in the group have all been playing and learning marimba for upwards of eight years. Many of the members have previously performed at Zimfest on both the evening and afternoon stages. Having been exposed to many different instructors from many different cultural backgrounds, Shamwari Tamba plays both traditional marimba as well as newer Western arrangements.
Supadupa Marimba Bros
Portland, OR
Supadupa Marimba Bros started as a youth band at MLC (Metropolitan Learning Center), a Portland public school where their leader Eric Miller teaches marimba. Many years later, they've stayed together as a band and perform their exciting style of marimba around the Pacific Northwest.
University of Washington Zimbabwean Music Club
Seattle, WA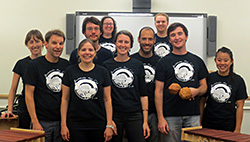 UW's Zimbabwean Music Club was started in Autumn 2012 by UW ethnomusicology graduate student Jocelyn Moon and her husband Zack Moon. We are inspired by all of the Zimbabwean music that has come before on UW's campus, beginning with the late Dr. Dumisani Maraire in the 1960s and continuing with UW visiting artists Ephat Mujuru and Chaka Chawasarira, as well as community members and former students such as Dr. Claire Jones. We are excited to offer the UW community an opportunity to learn and enjoy the music of Zimbabwe.
ZiMBiRA
Boulder, CO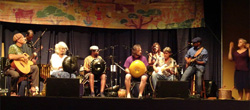 ZiMBiRA specializes in the traditional and contemporary music of Zimbabwe. The music is grounded in the mbira, its ancient repertoire and the beat of the hosho, and evolves as the beautiful lines are reflected on the guitar and marimba. Instrumentation of the moment may include mbira, karimba, guitar, ukelele, bass, marimba, hosho, vocals and hand and kit drums.