7:30 pm to Midnight,
August 15, 2015


Pacific Room, WUC (Ticketed)
7:30 – 8:30 pm
University of Washington Zimbabwean Music Club
Seattle, WA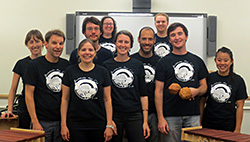 UW's Zimbabwean Music Club was started in Autumn 2012 by UW ethnomusicology graduate student Jocelyn Moon and her husband Zack Moon. We are inspired by all of the Zimbabwean music that has come before on UW's campus, beginning with the late Dr. Dumisani Maraire in the 1960s and continuing with UW visiting artists Ephat Mujuru and Chaka Chawasarira, as well as community members and former students such as Dr. Claire Jones. We are excited to offer the UW community an opportunity to learn and enjoy the music of Zimbabwe.
8:40 – 9:40 pm
Patience Chaitezvi Munjeri (Performing with Samaita Botsa)
Chinoyi, Zimbabwe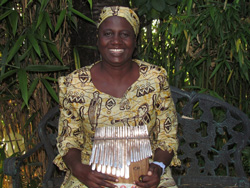 Patience Chaitezvi Munjeri, one of Zimbabwe's rare women mbira players, has played in traditional ceremonies since she was very young. Because her mother is a traditional healer and medium and her brothers also played mbira for the spirits, Patience grew up immersed in mbira music and deep Shona culture. She has also earned a bachelor's degree at the University of Zimbabwe. Four successful tours through the US and Canada (2008 through 2013) confirm Patience's ability to convey musical as well as cultural content to her students. After each tour she returns to her family and teaching post in Chinhoyi, Zimbabwe. There, she teaches in a high school of 2,000 students, 765 of whom are orphaned. She advocates for these children and manages to work with a handful of mbira students between teaching her scheduled classes. Patience has also organized a successful music camp in Zimbabwe, bringing together international students with herself and four other excellent Zimbabwean music teachers at Kufunda Village Learning Centre.
9:50 – 10:50 pm
Anzanga Marimba Ensemble
Seattle, WA
For 28 years Anzanga has been thrilling audiences around the globe. The Seattle-based ensemble has toured extensively throughout the U.S. and performed internationally in China, Canada and South Africa. The group has five recordings to its credit. Under the direction of Sheree Seretse, Anzanga has also made numerous appearances at Zimfest. The group is looking forward to being a part of the festivities this year.
11:00 pm – Midnight
Chris Berry
Pahoa, HI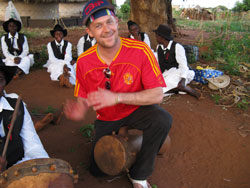 Grammy Award winner Chris Berry is an eclectic singer and songwriter, multi-instrumentalist virtuoso, and high-energy performer and teacher. From his humble beginning during Robert Mugabe's regime in Zimbabwe, he has blasted his powerful Afro-infused sound around the world for over 20 years, rocking audiences from NYC's Irving Plaza, to sold-out stadiums in South Africa and Sydney Australia's famous Opera House. He has released over a dozen albums; scored the soundtrack for three films; and has collaborated and performed with Eminem, Grateful Dead drummer Bill Kreutzmann, Senegalese Afro-Pop sensation Youssou N'dour, Cuban Legends Los Munequitos de Mantanzas, Paul Winter, Jamaican rhythm and production duo Sly and Robbie, Fugee's producer Handel Tucker and many more. Chris was born and raised in California and later took a ten-year journey to Africa, including eight years spent in Zimbabwe during the Mugabe regime. In Zimbabwe he studied the music of the Shona people. Chris has toured extensively as a frontman and bandleader in North and Central America, Australia, New Zealand, Russia, Asia and Africa. In the last few years Chris has collaborated with Steve Kimock, members of the Brazilian Girls, Baaba Maal, Thomas Mapfumo, Oliver Mtukudzi, Manu Dibango, Xavier Rudd, String Cheese Incident, Peter Apfelbaum, Zivanai Masango and Dom Lali. He worked with Pygmy people in the Central African Republic to record the soundtrack for the film "Oka!"