Noon to 5:00 p.m.,
June 26, 2022


Skagit County Fairgrounds (Free!)

Concert schedules are subject to change. Click photos to expand.
Noon – 1:00 PM
Kondo reNzou
Seattle, WA USA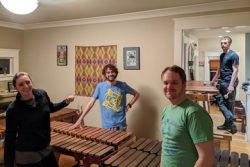 "Kondo reNzou" refers to the shimmering band of stars in the night sky – the Milky Way galaxy, or what the Marembe people of the northeastern borderlands of Zimbabwe and Mozambique call the "Path of the Elephants." Kondo reNzou is also a group of marimba players in Seattle, WA, that grew out of the University of Washington Zimbabwean Music Club. Comprising longtime Zimbabwean music enthusiasts and brand-newbies just discovering the music, we came together by the path of great leaders and we bring our collective styles, sounds and creativity.
1:10 – 2:00 PM
Mudzidzi
Eugene, OR USA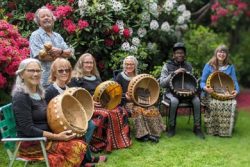 Mudzidzi ("learner" in Shona) is a mbira ensemble from Eugene, Oregon. We play in a variety of tunings, with a repertoire of traditional and more recent Shona music. We've played together since 2009 and have studied under many mbira masters from Zimbabwe and North America. Our current teacher and band member is Chakaipa Mhembere who has toured the world playing mbira in Thomas Mapfumo's band. We are blessed to have his depth and virtuosity added to our group. Mudzidzi has played at festivals and events throughout the Pacific Northwest, including benefit concerts for community development projects in Zimbabwe.
2:10 – 3:00 PM
Nathan and Parker
Portland, OR USA
Nathan joined Boka Marimba in 1992 and later spent 18 months traveling and studying mbira in Zimbabwe, taught by Tute Chigamba, Garadziva Chigamba, Garikayi Tirikoti, Wiri Chigonga, Cosmas Magaya, Musekiwa Chingodza, and Forward Kwenda. Parker started playing Mbira in 2009 as a student of Rosalie Brown-Lundh in Tigard, OR. They have continued their education in Zimbabwean music learning from teachers including Erica Azim, Cosmas Magaya, Patience Munjeri, Fradreck Mujuru, Sam Mujuru, and many others in the Zimfest community. Parker started jamming alongside Nathan through Boka in 2017. They enjoy playing together for fun, and for whoever may be listening.
3:10 – 4:00 PM
Harare, ZW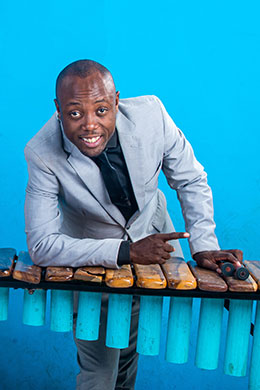 Blessing Chimanga is an internationally acclaimed artist as a marimba player, singer, songwriter and percussionist from Zimbabwe. He's been touring worldwide with his own African bands as well as with intercultural projects as musical ambassador of Zimbabwe. Blessing's music is marked by a unique sound produced out of his virtuoso marimba playing and the true strong rhythms of Africa. Blessing is currently one of the fastest-rising musicians of his country and has performed internationally at many well-known festivals. Blessing sits on the board of directors of the Kutandara Center, USA. He was a Zimfest content producer in Zimbabwe in 2021 and 2022.
4:10 – 5:00 PM
Festival Highlights
This year's Festival Highlights show features Zimbabwean teachers new to Zimfest with one of their workshop groups:
Marimba: Danmore Kusaya and Hi Hi Hi Hello Students

(Session 1)

Singing: Salani Wamkanganise, Kelly Orphan and Mhoro Nherera Students

(Session 3)

Dance: Blessing Bled Chimanga and Tamba Jaiva Students

(Session 2)