Noon to 5:00 p.m.,
June 25, 2022


Skagit County Fairgrounds (Free!)

Concert schedules are subject to change. Click photos to expand.
Noon – 12:10 PM
Opening Ceremony
12:10 – 1:00 PM
Masaisai
Lopez Island, WA USA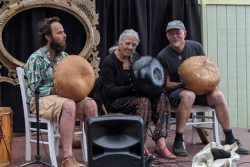 Members Neal Anderson, Pablo Paz and Aimée Nassoiy have played mbira together informally for decades, but it was the pandemic restrictions that transfigured the group. From the onset of COVID-19 we played outside together on beaches, patios and pavilions. We continue to explore the traditional mbira music of the Shona people of Zimbabwe, with the addition of singing and drumming. Masaisai means "the waves" in Shona, describing the watery surroundings of our island homeland and the fluid interweavings of mbira music, with a nod to the "Lopez Wave" of hospitality when drivers pass one another on our island roads.
1:10 – 2:00 PM
Jeff Brahe & Students
Tacoma, WA USA
Prolific Tacoma-area teacher Jeff Brahe is bringing multiple student groups to Zimfest this year, including youth and adult students from Jekesa Marimba Studio, the Hazelwood School and St. Mark's Lutheran Church.
2:10 – 3:00 PM
Manzwi
Seattle, WA USA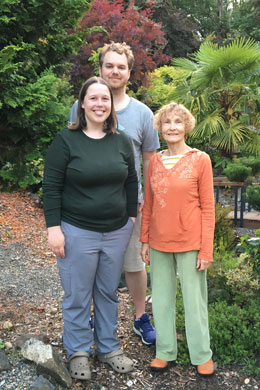 Manzwi members are long-time Zimfest attendees who got together to sing songs we learned from Sheasby Matiure, Lucky Moyo, Zivanai Masango and other Zimbabweans. We sing in Shona, Ndebele, and Zulu, and have gradually added marimba, guitar, ngoma and nyunga nyunga to our vocals.
3:10 – 4:00 PM
Kwaziwai
Eugene, OR USA
Kwaziwai continues the legacy of youth performing ensembles growing up literally and musically through the Kutsinhira Cultural Arts Center. From Dumi Maraire classics to traditional mbira-style pieces to contemporary compositions, Kwaziwai brings youthful energy to the Zimbabwean marimba music we all love.
4:10 – 5:00 PM
Langley, WA USA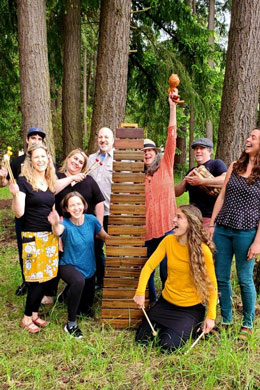 The band Rubatano is from Rubatano Center on South Whidbey Island. The band has been together for four years but every band member came from being a student at Rubatano Center. Directed by Dana Moffett, Rubatano plays music taught to us by many Zimbabwean guest teachers over the past two decades.