Erica Azim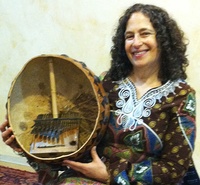 Erica Azim fell in love with Shona mbira music when she first heard it at the age of 16. In 1974, Erica became one of the first Americans to study mbira in Zimbabwe. Since then, she has studied with and performed with many of Zimbabwe's top mbira masters, as well as giving solo performances, at venues ranging from Zimbabwean village ceremonies to the Kennedy Center in Washington DC, and many universities; she also performs internationally. Erica has released 3 solo CDs, as well as playing on 10 other albums with Zimbabwean mbira masters.
Erica loves to share her passion for Shona mbira and singing with others, and has taught thousands around the world to play mbira, from age 6 to 80, from first-time-musicians to music professors and music therapists. She currently teaches regional mbira workshop groups in the US and Canada, and internationally-attended mbira camps at her home in Berkeley, California, as well as occasional international locations. Erica directs the non-profit organization MBIRA (www.mbira org), which makes field recordings and instruments available to mbira enthusiasts around the world and provides financial support in Zimbabwe to over 250 traditional musicians and 19 instrument makers.
Hear Erica at https://www.youtube.com/watch?v=_wfbdPbNbLo, https://www.youtube.com/watch?v=8LmWZxAmbsI, https://www.youtube.com/watch?v=oR62j9kK3M0, and https://www.youtube.com/watch?v=wl4Fx-PjuRo.
Jaiaen Beck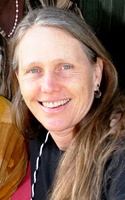 Jaiaen Beck was introduced to a life-transforming path through a lecture on Shona spirituality given by the late Dr. Abraham Dumisani Maraire. Since 1990 she has worked with many teachers, from North America and Zimbabwe, studying Shona music, cosmology and healing traditions. In 1993 she founded Ancient Ways, which became a charitable non-profit organization, encouraging preservation of life-giving traditional ways of indigenous peoples, and is based in Oregon's mid-Willamette Valley. Since then, Jaiaen has taught music to people of all ages both in Oregon and elsewhere in the U.S., in the justice system, community and school settings, as well as having been part of several performing groups. Through Ancient Ways, Jaiaen co-founded Nhimbe for Progress in 1999, and Jangano in 2005, two separate rural community development projects, providing a link for people to connect and offer humanitarian aid to rural Zimbabwe.
Chris Berry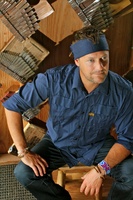 Grammy award winner Chris Berry is an eclectic singer and songwriter, multi-instrumentalist virtuoso and high-energy performer and teacher. From his humble beginning during Robert Mugabe's regime in Zimbabwe, he has blasted his powerful Afro-infused sound around the world for over twenty years, rocking audiences from NYC's Irving Plaza to sold-out stadiums in South Africa and the famous Opera House in Sydney, Australia. He has released over a dozen albums and scored the soundtrack for three films. Additionally, he has collaborated and performed with some of the world's best performers, such as Eminem, Grateful Dead drummer Bill Kreutzmann, Senegalese Afro-pop sensation Youssou N'Dour, Cuban legends Los Munequitos de Mantanzas, jazz artist Paul Winter, Jamaican rhythm and production duo Sly (Dunbar) and Robbie (Shakespeare), Fugee's producer Handel Tucker and many more.
Chris was born and raised in California where he began his apprenticeship as a fifteen year-old with master drummer Titos Sompa (one of the founders of the African drum and dance scene on the West Coast of the U.S.). This relationship led him into a ten-year journey to Africa. Eight of these years were spent in Zimbabwe during the post-Independence period. During this tumultuous political period, Chris found himself living in the ghettos and villages of Zimbabwe where he sought to study the music of the Shona people, adding to his growing repertoire of traditional African music.
From there, Chris has toured extensively around the globe, including North and Central America, Australia, New Zealand, Russia, Asia and Africa as a front man and bandleader. He performed at the 2000 Olympics in Sydney, Australia, co-wrote for Paul Winter's Grammy Award winning 2009 Winter Solstice album, taught music and culture as a guest faculty member at Oberlin and Berklee Colleges of Music, University of Colorado Boulder, Williams College and Stanford University and his own Panjea Foundation for Cultural Education and has headlined in major music festivals around the world. In the last few years Chris has collaborated with Steve Kimock, members of the Brazilian Girls, Baaba Maal, Thomas Mapfumo, Oliver Mtukudzi, Manu Dibango, Xavier Rudd, String Cheese Incident, Peter Apfelbaum, Zivanai Masango and Dom Lalli and spent six months working and recording with the Central African Republic Pygmies to score the soundtrack for the film Oka!.
"Samaita" Vitalis Wilbert Botsa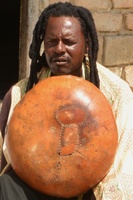 "Samaita" Vitalis Wilbert Botsa was born the youngest child of a very musical village family in Muzanenhamo, Murehwa, Zimbabwe. Both his father and mother were known as great singers in traditional bira ceremonies, and his father was the medium of a family ancestor spirit. Samaita's five older brothers all played mbira and traditional music was an integral part of his childhood. He has played mbira since 1977.
An extremely accomplished mbira player, he creates complex waves of sound seemingly impossible from the two thumbs and one finger used to play mbira. Very traditional in his relationship to the "music of the ancestors" Botsa has performed at important ceremonies throughout Zimbabwe and is featured on 6 CDs. He has taught mbira and singing at workshops in Zimbabwe attended by mbira players from the U.S., Canada and Australia. Samaita gives his first performances and workshops in the U.S. during 2015.
For a more extensive bio, see http://www.mbira.org/samaitabotsa.html.
Jeff Brahe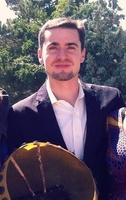 Jeff Brahe has spent the last 17 years immersing himself in Zimbabwean music, starting with marimba, and gradually adding mbira dzavadzimu, hosho, drumming, matepe mbira, karimba, and most recently, dance. Throughout his childhood in Santa Fe, New Mexico, he was exposed regularly to West African, Afro-Haitian, and Congolese music and dance, shaping his tastes and skills through a vibrant pan-African music community. This time culminated in his activities with Ande Marimba, Camp Tumbuka, and Chris Berry.
More recently, Jeff relocated to Tacoma, Washington, where he completed a BA in classical music at the University of Puget Sound. He has lived in the Seattle-Tacoma metro area ever since. In this urban environment, Jeff's fascination with African rhythm and his passion for social justice have converged into a deep respect for hip-hop, which he participates in at the local level.
Jeff's teaching credentials include multiple workshops at Zimfest, private mbira lessons in Washington, and workshops with marimba bands across the country. In 2012, he was selected as a Teaching Artist at Seattle's EMP Museum, and earlier this year he completed a two-month residency at Grant Elementary School in Tacoma, teaching marimba and gumboot dance. He has also been a guest lecturer at the University of Puget Sound on multiple occasions. In his daily life, Jeff teaches martial arts and Japanese language in Tacoma and performs with Jekesa Marimba.
Rujeko Dumbutshena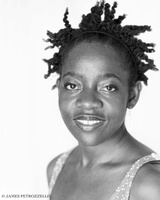 Rujeko Dumbutshena is an experienced university dance instructor who was on faculty at Sarah Lawrence College for 8 years and now teaches in the dance department of the University of New Mexico. As a Zimbabwean artist living in America, Rujeko has successfully been a part of innovative works and was an original ensemble member (dancer, singer, mbira player) in the Broadway musical production of FELA!. Rujeko was commissioned to choreograph and produce an original piece, "Jenaguru," as part of the Smithsonian African Art Museum's African Cosmos exhibit. She received a Brooklyn Arts Council 2013 grant and a BAM/De Vos Institute 2013 Fellowship and is a 2014 New Mexico Arts grantee. She teaches neo-traditional African dance.
Mary Ellen Garrett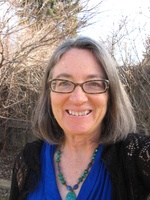 Mary Ellen Garrett is a musician, singer, music teacher and peace activist in Denver, Colorado. She plays and teaches marimba, mbira, harmony singing and hosho, and plays Celtic music on hammered dulcimer. She has been a student, teacher and performer with groups in Seattle, Boulder, Estes Park and Denver. She teaches youth and adult marimba classes, collaborates with the family band Chihera, and co-directs the Denver marimba band Midzi. She supports Nhimbe for Progress (Zimbabwean community development projects directed by Cosmas Magaya) and helps schedule Zimbabwean teachers' visits in Colorado. Mary Ellen and her husband Paul visited Zimbabwe in 2013. She is deeply grateful to all her teachers and this unique network of friendships through the music and cultures of Zimbabwe.
Kite Giedraitis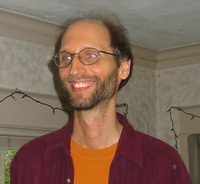 Kite Giedraitis has been playing Shona music since 1987 and began teaching in Portland, Oregon in 1989. He was an original member of Boka Marimba and played with them for three years before traveling for a year in Zimbabwe and three months in Ghana. Kite currently plays with Fools In Paradise, which he founded in 2001. He has taught elementary and middle school students and now focuses on adult marimba instruction. At least 16 bands have evolved out of Kite's marimba classes.
Matt Gordon
Matt Gordon grew up in Eugene, Oregon, studying Zimbabwean music at the Kutsinhira Cultural Arts Center and taking guitar lessons. These two musical interests soon merged and Matt immersed himself in Zimbabwean pop and chimurenga styles. Eventually touring with Thomas Mapfumo and the Blacks Unlimited as the bass player, he now resides in Portland where he plays guitar with two Zimbabwean music bands: Loveness Wesa and the Bantus and Pachi Pamwe.
Mandla Kaunda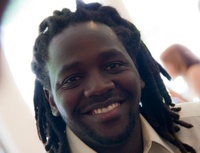 I started playing marimba in primary (elementary) school when I was 6 years old, in Bulawayo, Zimbabwe. Being from Bulawayo, what influenced my marimba music extends beyond Shona heritage to include Ndebele music and other western genres like reggae, jazz and pop. I was the captain of my high school marimba band, which I led to the Prince Edward School invitational in 2001. My school, Founders High School, came out ranked first (Professional grade) for our arrangement of Thomas Mapfumo's "Zimbabwe/Mozambique" and Phil Collins' "Another Day in Paradise." I was primarily responsible for the arrangement of the music in this event.
In 1998, my former marimba bandmates from school and I formed Rainbow Blaze marimba band in Bulawayo. We specialized mostly in contemporary Western and African diaspora covers, traditional songs and our own compositions. Between 1998 and 2004, we played at various venues around the country, collaborating with groups like Godlwayo and Umdumo weSizwe. We even shared the stage with Zimbabwe-renowned musician Sandra Ndebele at an event in Filabusi. In 2009, I joined the School of Creative Arts (SoCA) in Pretoria, South Africa as a marimba instructor. I developed a program for their beginning and advanced marimba classes, incorporating elements the students learned in the mandatory music theory classes.
I moved to the United States in 2011, and have been involved in marimba on a fairly small scale with my friends Jeff Brahe and Kensuke Shimizu with whom we started a 3-man Jekesa Marimba. In 2014, I taught at Zimfest for the first time with Jeff. My class was "Contemporary Zimbabwean Music in Marimba" which, based on the feedback I got from my students, was a success. I am excited to teach again at the 2015 Zimfest.
MyLinda King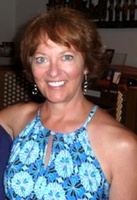 MyLinda played with Boka Marimba from 1989-99 and then re-joined the band in 2014. Her original teachers include Dumi Maraire, Ephat Mujuru, MaiChi Nemarundwe Maraire and Chris Berry. She also played keyboards in the band Kubatana, with MaiChi Nemarundwe Maraire from 1992-93. In 1995 she began teaching marimba in her home studio and soon after that began teaching children in various Portland schools. In 2009 and 2010 she brought all the school groups together, Zimfest-style, for a one day festival called Mhembero: A Celebration of Youth Marimba. She often offers summer marimba camps to school-aged children. MyLinda is also a regular teacher at the NW Women's Music Camp. In her spare time she enjoys making hosho and teaching people how to play them.
Jesse Larson
Jesse Larson first began to play marimba at the Kutandara Center in Boulder, Colorado when she was 11 years old, and has been an avid Zimbabwean music lover ever since. She performed for many years with the bands Kutandara and Tamba! as well as other groups from around the U.S. She has also spent time learning from and working with various teachers including Chris Berry, Paul Mataruse, Zivanai Masango, Tendai Muparutsa, Jacob Mafuleni, and many more. At the age of 14, she began to student-teach under the instruction of Randy McIntosh and Amy Stewart McIntosh and then spent the next 6 years teaching regularly at the Kutandara Center. She has since then taught in many different music communities around the country. Jesse loves teaching almost as much as performing and is always eager to work with students of all ages and levels.
Patrick Latimer
Patrick Latimer grew up in Homer, Alaska, around all kinds of music, and was invited to become a member of a local adult marimba band at age 10 in 2007. Soon thereafter he founded a youth marimba band and he played with both ensembles for five years until they merged into what is now Williwaw Marimba. He has composed and taught many pieces. He plays many other instruments and sings in the high school choirs, but always comes back to marimba. Patrick has experience teaching to all ages and many learning styles and thoroughly enjoys sharing his love of music.
Daniel Lockley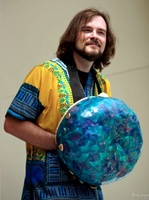 I got my start in the world of Zimbabwean music when I was 10 years old under the excellent tutelage of Stephen Golovnin. Over the next several years, I worked with many other fantastic teachers, including Peter Swing and Dan Pauli. By high school, I was ready for more and so I picked up the mbira, which helped push me deeper into the world of Shona music where I still find myself wandering to this day. Soon, learning wasn't enough and performance became my goal, so I started playing first with my teachers' respective bands, Trillium, Tatenda and Jaka, and then with my friends in the Andé Marimba Band.
My earliest teaching experiences were group endeavors, teaching workshops with fellow Andé members, but it really began to take off when we started working with Chris Berry, helping to teach and perform his material to various ensembles around the country. By 2010 I found my feet as a solo teacher and began teaching through a non-profit in Portland, Oregon called Ethos and eventually on my own. I finally got my "big break" when I was invited to teach at the Kutandara Center in Boulder, Colorado, where I have been teaching marimba and mbira for the past two years.
Zivanai Masango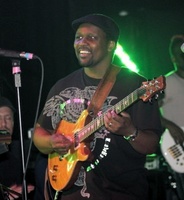 Zivanai Masango is a "musician's musician". Although he is primarily one of the most exciting Southern African guitarists, his work as a songwriter, arranger, producer/engineer, music educator and multi-instrumentalist has garnered for him a lot of respect even amongst some of the world's leading musicians. He has played on some of the world's most prestigious stages from the Hollywood Bowl to the Blue Note and everything in between, playing with a wide array of acclaimed artists and bands as Oliver Mtukudzi, Thomas Mapfumo, Playing For Change Band, Giovanni Hidalgo, The String Cheese Incident, The Motet, Alvin Slaughter, Bushman and many others. Recently, he has embarked on a solo recording career that is quickly establishing him as one of the torchbearers of African and world music into the future. Just like his guitar playing, Zivanai's work as a recording artist and bandleader disregards categorization and reflects the various influences that have shaped him into the maverick musician he is today.
Amy Matamba
Mbira Spirit consists of Amy Matamba from Vancouver Island and Tafadzwa Matamba from Zimbabwe, with a powerful sound and vision of bridging communities between Canada and Zimbabwe. Together we are one! Playing African, reggae, folk, spiritual and gospel music, our performance is unforgettable. As Mbira Spirit, it is our aim to preserve and promote the heritage and shared cultures of the people of Zimbabwe through music that fosters world peace, love and harmony!
Mbira Spirit believes the power of music and the arts can change lives and we are taking action to make a positive change. All proceeds of our music and performance will go towards our twin Cultural Arts Centres on Vancouver Island, Canada and Magunje, Zimbabwe. Our music, message and our presence are inspiring and bring hope to ALL who participate.
Tafadzwa Matamba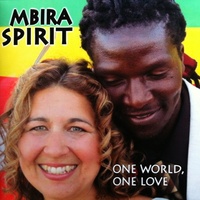 Mbira Spirit consists of Amy Matamba from Vancouver Island and Tafadzwa Matamba from Zimbabwe, with a powerful sound and vision of bridging communities between Canada and Zimbabwe. Together we are one! Playing African, reggae, folk, spiritual and gospel music, our performance is unforgettable. As Mbira Spirit, it is our aim to preserve and promote the heritage and shared cultures of the people of Zimbabwe through music that fosters world peace, love and harmony!
Mbira Spirit believes the power of music and the arts can change lives and we are taking action to make a positive change. All proceeds of our music and performance will go towards our twin Cultural Arts Centres on Vancouver Island, Canada and Magunje, Zimbabwe. Our music, message and our presence are inspiring and bring hope to ALL who participate.
Amy Stewart McIntosh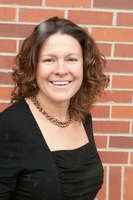 Amy is Kutandara Center's program director. Amy began studying African music in 1994 with master instructors both from Zimbabwe and the United States. Amy is adept at many African instruments, but especially loves marimba and hosho (gourd rattles) and plays both with style and grace.
Amy, with her partner Randy McIntosh, founded Kutandara Center in 1999. They believe that the music inspires, transforms and connects us to each other and the world around us. Amy reminds students and instructors alike that music is not only about notes and rhythms, but also about relationships among people working together toward a common goal.
Amy's primary Zimbabwean teachers have included Paul Mataruse, Cosmas Magaya, Ambuya Beauler Dyoko, Sheasby Matiure, Tendai Muparutsa and Jacob Mafuleni.
Randy McIntosh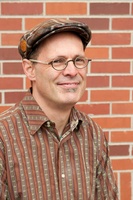 Randy is Kutandara Center's music director. Randy graduated from Colorado State University in 1992 with a bachelor's degree in music, and from the University of Colorado in 1996 with a master's degree in music composition. Randy's love of Zimbabwean music inspires him to write and arrange his own Shona-style compositions. Randy is Kutandara Center's composer and musical visionary.
Randy, with his partner Amy Stewart McIntosh, founded Kutandara Center in 1999. They believe that the music inspires, transforms and connects us to each other and the world around us. In addition to Kutandara Center, Randy has taught Zimbabwean music at the University of Colorado, Metropolitan State University, Regis University, New Vista High School, the Colorado School of the Arts and Boulder Country Day School.
Chaka Mhembere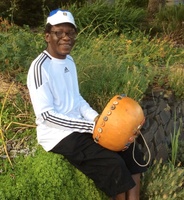 I was born in Chegutu, Mhondoro, Zimbabwe, in 1964. My totem is "Mukanya." I started playing mbira when I was four years old. No one taught me how to play; I learned by listening to other mbira players in Mhondoro. Once I began playing mbira at home, my older brothers started playing mbira as well. When I met Thomas Mapfumo he was living in Zimbabwe and had already gained fame with his albums. It was 1994 and I was working in the industrial areas of Harare and listened to Thomas Mapfumo on the radio and really enjoyed the music. I decided when I heard them play a mbira song, that I wanted to play music instead of working in industry. At the time, Thomas owned a soccer team called the Sporting Lions. One day, after I got off work at 5 pm, I went to watch the soccer team. A friend told me that Thomas was there on certain days, so I made sure to go on that day. When I saw Thomas there, I told him I play mbira and he invited me to join them at Club 99 in the Southerton neighborhood. At the club, Thomas invited me to join them at a recording studio and I interviewed to join the band. Even though I was nervous, it went well and I ended up being recorded on that album, Chimurenga Variety. After that I had to get a passport so I could start traveling with Thomas Mapfumo. From 1995 until 2004 we toured every summer in Europe, Africa, Australia, and America.
In 2004, things were not good in Zimbabwe and it was hard to make it our home any longer. The band manager, Al Green, was based in Eugene, Oregon, so the band decided to put new roots down in the Northwest. After 2004 the band stopped touring heavily and focused on recording albums. I began to have more time to teach. The Eugene mbira group, Mudzidzi, which is Shona for "The Learner," began to work with me in 2012. Now I am excited to have more time in my life to share my knowledge with others who want to learn mbira. Tatenda.
Eric Miller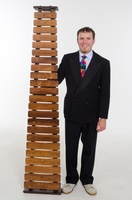 Eric Miller became interested in Zimbabwean Music when he moved to Portland, Oregon in 1996 and first heard Boka Marimba. At first, he would just dance away the night, but after a year he auditioned and started playing in the band. In Boka, he met Nathan Beck who introduced him to the mbira, and Marian Grebanier, who gave him a solid foundation in the traditional Shona mbira repertoire. Julia Chigamba, a Zimbabwean singer and dancer moved to Portland in 1998 and Eric began performing with her as well. He played with Boka for 5 years until it became apparent that it was time to create his own group. In 2003, Eric formed Pachi Pamwe with Matt Gordon on guitar/bass and began fusing his own lyrics and style with that of the traditional mbira repertoire. Eric finally went to Zimbabwe for 3.5 months in 2005 to experience the culture, study some mbira, and give back to the people. While there he met and played trumpet with Bongo Love and Dudu Manhenga. In 2006, he recorded with Zimbabwean legend Thomas Mapfumo and in 2007 began touring internationally with Mapfumo's band, playing mbira and trumpet. Eric has been making his living in Portland since 2003 teaching marimba in schools and out of that he formed a youth band called Supadupa Marimba Bros. He has studied with every traditional mbira player to come through town but has mostly learned from deeply listening to recordings. Eric loves, respects and plays traditional mbira music, but also feels the need to express himself and does so by composing his own songs and singing in his mother tongue.
Jocelyn Moon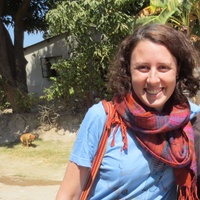 Jocelyn Moon is a Ph.D. student in ethnomusicology at the University of Washington. She specializes in music from Zimbabwe with a special research focus on the music cultures surrounding the matepe mbira of northeastern Zimbabwe. Jocelyn started playing Zimbabwean music on the banjo, in a trio at Lionel Hampton School of Music in Moscow, Idaho (involving one Tendai Muparutsa). She then studied nyunga nyunga mbira with Muparutsa, as well as marimba, performing in the band Chiroto (Dream). In 2010, Jocelyn relocated to Seattle to attend graduate school and joined the Afro-pop band Ruzivo, performing with Ruzivo at HIFA (Harare International Festival of the Arts) in 2012. Jocelyn has helped to reinvigorate the University of Washington ethnomusicology department's long history with Zimbabwean music, starting, of course, with Dumisani Maraire. She co-founded the University of Washington Zimbabwean Music Club with her husband, Zack, and instructs the Zimbabwean marimba class ensemble, quarterly. Jocelyn is excited to be teaching at Zimfest for the first time! She will be co-teaching with her husband Zack Moon.
Zachary Moon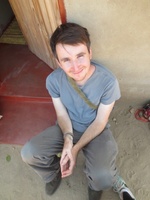 Zack Moon loves music. Over the course of the last 20 of his 28 years, he has developed a particular love and passion for music from Zimbabwe. Zack has had the luck and privilege to be able to spend much of his time with these beautiful sounds in his hometown of Seattle, in Zimbabwe, and even on one occasion in China with Anzanga Marimba in 1999.
Zack is currently a member of 3 Seattle based groups: Anzanga Marimba, Ruzivo, and the University of Washington Zimbabwean Music Club. This is Zack's first time teaching at Zimfest! He will be co-teaching with his wife, Jocelyn Moon
Kurai Blessing Mubaiwa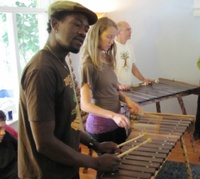 Performing artist and cultural activist
Musician – mbira, marimba, percussion, bass, keyboard
Actor – specializing in physical theatre
Dancer – traditional and contemporary dance
Craftsman – mbira and marimba musical instruments
Visual Artist – painting and sculpture
Kurai Blessing Mubaiwa was born in 1976 in the village of Mutimbanyoka, in Murewa district, Zimbabwe. With an exceptional interest as a young child he began playing mbira at the age of six. This keen learner watched while his father, uncles and other village elders played mbira in traditional ceremonies and soon he began his journey as a young child singing, dancing, playing mbira and drums in traditional ceremonies and other village gatherings. In 1994 Kurai moved to the city of Harare and joined the cultural group Savannah Arts where he learned to play marimba and trained as an actor. Here he facilitated and coordinated the Streets Ahead program which focused on teaching street youth to play marimba. In 1995 he participated in The Youth Forum and taught cultural arts in Copenhagen and Arhus, Denmark. In 1998 Kurai toured West Africa and Europe with Chiwoniso Maraire and opened for Cesaria Evora. In 2000 he joined Theatre Talipot on Reunion Island performing in the production, Passage, which also toured South Africa, France and Scotland. Kurai immigrated to Vancouver in 2002 where he began his Canadian musical journey. Here he began teaching at the Britannia World Music Program, facilitating and instructing children and youth marimba classes for eight years. Since 2002 until the present, Kurai has performed with the Art Starts Program with several different groups at elementary, middle and high schools. After Kurai received his Canadian Citizenship in 2008, he was able to go back on the road to perform around the world at festivals such as WOMAD, Montreal Jazz Festival and the Zimbabwean Music Festival. Kurai currently teaches singing, marimba, mbira and drumming workshops to children and adults. In his solo performance he sings, dances and plays mbira, marimba, drums and other percussion instruments. Kurai also continues to perform as the lead musician with the groups ZimbaMoto and Zhambai Trio.
Patience Munjeri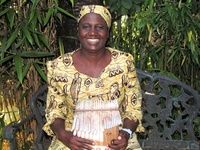 Patience Chaitezvi Munjeri, one of Zimbabwe's rare women mbira players, has played in traditional ceremonies since she was very young. Because her mother is a traditional healer and medium and her brothers also played mbira for the spirits, Patience grew up immersed in mbira music and deep Shona culture. She has also earned a bachelor's degree from Africa University in Mutare.
Four successful tours through the U.S. and Canada (2008, 2009, 2011 and 2013) confirm Patience's ability to convey musical as well as cultural content to her students. Patience takes her teaching role seriously; patient and precise, she brings energy and authenticity to all her classes and performances.
Patience Musandirire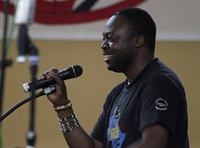 I am an African musical arts education resource person. I specialize in marimbas, mbira, African drumming, African musical arts education consultation, workshop facilitation and presentation of African musical arts and research. Qualified with a BMus Honors, Music Education University of Pretoria, I have worked with universities and colleges in Norway, South Africa, Zimbabwe, Botswana and played marimbas voluntarily with U.S. communities in Portland, Seattle and Alaska, as a musical arts education consultant, support trainer and coach. I am involved with conference paper presentations with PASMAE (Pan African Society for Musical Arts Education) in theatrical demonstrations in the recreation and creation of African musical arts, and the theoretical knowledge rooted in African arts musicology.
To view my publication on the nature and scope of African marimba playing, Google The Talking Drum • Newsletter Issue No. 39 • July 1013 • "Network for promoting Intercultural Education through Music" (NETIEM), Pan African Society of Musical Arts Education (PASMAE). http://www.disa.ukzn.ac.za/samap/project/talking-drum.
For an update of activities I am currently engaged in, you can befriend me on Facebook and like my page Ngombira Hosho Muchirimba.
Teaching Example: (Njuzu ya-mbuya Stella Chiweshe) Recreated by Patience Musandirire (Juneau, Alaska, U.S. 2014) https://www.youtube.com/watch?v=W76fK8wDGQY.
John O'Brien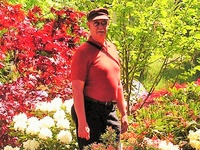 My wife and I first heard Yesango on the beach at the International Kite Festival in Long Beach, Washington in 2002. This led to our first Zimfest in 2004, lessons in Portland with Kite Giedraitis, a move to Olympia, lessons with Bob Sisson, and membership in Mukana Marimba a couple of years ago.
Professionally, I am a board-certified physician assistant with four decades of primary care. I have specialized in injured workers ailments and musculoskeletal medicine for the last 8 years. I also mentor University of Washington physician assistant students and I am on the University of Washington teaching faculty.
Val Rogers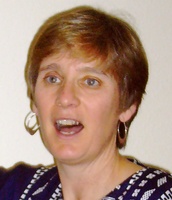 Val Rogers is a teacher and passionate organizer working to expand and enrich the community singing experience. After 15 years leading community choirs, Val now teaches at world music camps, festivals and workshops on the west coast of the US. Val toured professionally in 2007 with the vocal ensemble Northern Harmony, performing and teaching South African and other world vocal music in Europe. She has completed two choral study/performance tours in South Africa in 2011 and 2014.
Intensely drawn to southern African choral singing since first encountering it over a decade ago, Val's devotion to learning and sharing this music is driven by the powerful sense of joy and bonding the participants experience. Her knowledge and love of this song/dance tradition has been nurtured by Zimbabwean, South African, and North American teachers, including John Mambira, Sheasby Matiure and Matlakala Bopape. In addition to teaching, Val organizes and presents world music camps, concerts and workshops near her hometown of Eugene, Oregon.
Sheree Seretse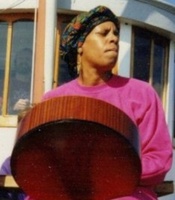 Sheree Seretse began studying with Dumisani Maraire in 1970. In 1973, she began teaching classes with Dumi and Lora Chiorah. Hired in 1978 by Langston Hughes Performing Arts Institute to teach and coordinate programs for the Seattle community, Sheree is currently teaching at the Spruce Street School and community classes at Life Enrichment Bookstore, Jaam Rek and Garfield Community Center. Sheree has taught in many academic settings including the Jewish Day School of Bellevue, Giddens School, University Co-op, TAF Academy, International Drum Festival and more. Sheree has made numerous trips to Africa to augment her studies and teaching experience.
Carla Starck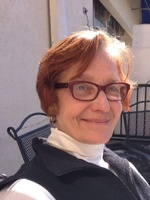 Carla Starck began studying marimba with Randy McIntosh in 2000. At her first lesson she heard about Zimfest and within 2 weeks was celebrating the music with lots of other Zim music enthusiasts in Eugene! She knew, "I found my music!" In 2005 she ordered a set of marimbas and began teaching students of all ages through community and after-school programs. She continues to learn from other teachers and guest Zimbabweans and brings guest artists to Fort Collins when scheduling allows, eager to add to her students' learning experience. Over the years Carla has enjoyed playing with several performing groups Musangano (& Randy McIntosh), Zebra Marimba (Bonnie Carol, Max Krimmel, Tom DeFore, Melinda Evans), and currently with The Low Flying Knobs, an all-women's group that formed over 20 years ago.
Wanda Walker
Wanda Walker has taught marimba at Kutsinhira Cultural Arts Center in Eugene, Oregon, since 1999 and privately since 2002. She performs with Kutsinhira marimba ensemble Jenaguru Full Moon Marimba as well as Mudzidzi Mbira. Wanda has studied marimba, mbira, singing, dance, hosho and drum with many Zimbabwean musicians including Cosmas Magaya, Musekiwa Chingodza, Ambuya Beauler Dyoko, Chartwell Dutiro, Sheasby Matiure, Patience Chaitezvi Munjeri and Paul Mataruse. Wanda has arranged several traditional mbira songs for marimba and has developed a fondness for teaching young people. Wanda has taught at Zimfest since 2003, often with her daughter, Mandy Walker-LaFollette.
Mandy Walker-LaFollette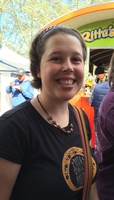 Mandy Walker-LaFollette was introduced to Zimbabwean music as a toddler when her parents began taking classes at Kutsinhira Cultural Arts Center in Eugene, Oregon. She soon intermittently played marimba, and began seriously studying mbira in 1998 and marimba in 2000. Her teachers include Musekiwa Chingodza, Cosmas Magaya, Ambuya Beauler Dyoko and Sheasby Matiure. She performs with Hokoyo, Jenaguru, and Zambuko Marimba. Mandy has arranged and co-arranged several mbira songs for marimba, including Nyuchi, Mukatiende, Unozofa, Dangurangu, and Pamuromo.