7:30 p.m. to Midnight,
June 26, 2022


Lincoln Theatre (Ticketed)

Concert schedules are subject to change. Click photos to expand.
7:30 – 8:25 PM • Live
Richmond, CA USA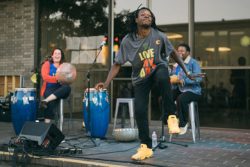 Mbira dzaSoko is committed to the art of playing and teaching mbira music. Led by Zimbabwean mbira maker, player and artistic director, Salani Wamkanganise, Mbira dzaSoko is committed to sharing and celebrating mbira music and culture. Audiences can expect to cheer, sing, dance and learn some Shona when they experience Mbira dzaSoko.
8:30 – 9:00 PM • Pre-recorded
Harare, Mutare & Kwekwe, ZW
Celebrate Africa music competition is an annual competition hosted by Blessing Bled Chimanga to promote the use of African instruments and African language in Zimbabwean music. Each year we have over 300 participants from three selected cities coming to perform. In Season Two (2022), we had Ndaramo Duet from Mutare being the winning group. Here are the top five of the competition now coming together to perform one concert titled AFRICA RISE:
Mazvita – mbira
Rumbidzai Chidzonga (Kwekwe) – mbira
Ndaramo Duet (Mutare) – marimba
Elishama Duet (Harare) – ngoma and guitar
Deze Rawasu Duet (Mutare) – mbira
9:00 – 9:25 PM • Pre-recorded
Harare, ZW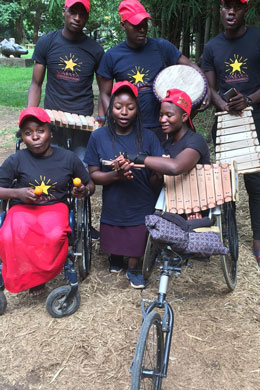 Nyunga nyunga and marimba music from an organization that works with vulnerable members of society in Zimbabwe, teaching them how to play and make Zimbabwean traditional instruments. Vaima Arts Trust founder Kelvin Chikumbirike is an advocate for people living with disability through creative art and music.
9:25 – 9:40 PM
Intermission
9:40 – 10:05 PM • Pre-recorded
Umkhathi Theatre Works
Bulawayo, ZW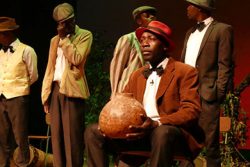 Established in 1997, Umkhathi Theatre Works is an award-winning multidisciplinary performing arts ensemble based in the high-density suburb of Njube in Bulawayo, Zimbabwe. With 16 full-time members and 12 juniors of school-going age, Umkhathi is involved in a wide repertoire of art skills that range from community theatre to African traditional dancing, music, drumming, mime, drama and poetry. Ours are not limited to types found in Zimbabwe only, but those from other different African cultures as well. As a result, we have the diversity to present the relevant and provocative work of a culturally responsible theatre company.
10:05 – 10:50 PM • Pre-recorded
Harare & Chinoyi, ZW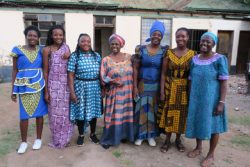 Mhare DzeNhare, "Experts of the Mbira," is a collective of seven women mbira musicians from Zimbabwe. Its members are Irene Chigamba, Rhoda Dzomba, Tendai Mavengeni, Patience Munjeri, Winnefrider Ndava, Joyce Warikandwa and Chipo Wazara. The group includes seasoned musicians who have played mbira for several decades, as well as up-and-coming younger players. Some of its members have toured internationally to the United States, Germany, China, France and Austria, while others have never performed outside Zimbabwe. The members of Mhare DzeNhare have recorded dozens of mbira albums, taught hundreds of students, and performed for audiences at countless ceremonies, festivals and other events.
10:50 – 11:50 PM • Live
Jeff Brahe & Friends
Lakewood, WA & Santa Fe, NM USA
Bringing together veteran performers from Andé Marimba, the Jeff Brahe Trio and the Pachedu Orchestra, this mix of marimba, mbira, bass guitar and vocals is guaranteed to please!