Zimfest 2018 will be held August 9-12, 2018 at Western Oregon University. We are pleased to return to the festival-friendly WOU campus in the town of Monmouth, Oregon, nearly equidistant from Portland and Eugene. The Monmouth area, in the heart of Oregon's wine country, is also a great point of departure for day trips exploring the beautiful Willamette Valley or heading west to the Oregon coast. We hope to see you there!
Zimfest Applications and Visa Info
Applications for Zimfest are now open as of January 2, 2018.
To apply to teach, go to the Teacher Application Information (also linked from the right-hand sidebar on this page) which will take you to the teacher application and workshop proposal forms. To apply to perform, go to Performer Application Information. All performers and teachers who wish to be considered for the 2018 festival must submit online applications by February 28, 2018.
Zimfest welcomes Zimbabweans and other individuals who are not US citizens to teach and perform, but under US visa regulations, all non-US citizens will require a working visa to teach and perform at the festival. Be advised that Zimfest does not sponsor visas. To obtain a US visa (visa type P, O, Q, and a few others) a US citizen, agent or nonprofit organization must apply for these visas on your behalf. You cannot apply for these visas yourself. For additional information, visit the Applicant Information page. If you have questions, please contact the Zimfest Guest Coordinator at gro.t1519301994sefmi1519301994z@sts1519301994eugmi1519301994z1519301994.
Zimfest 2018 – Music Dancing Across Borders
The Zimfest Association Board has chosen Music Dancing Across Borders as the theme for Zimfest 2018. Given the vulnerable circumstances for immigrants and citizens both here in the United States and in Zimbabwe, we are steadfast in the knowledge that music and dance are unifying forces around the world. We look forward to dissolving borders and creating togetherness at the upcoming festival.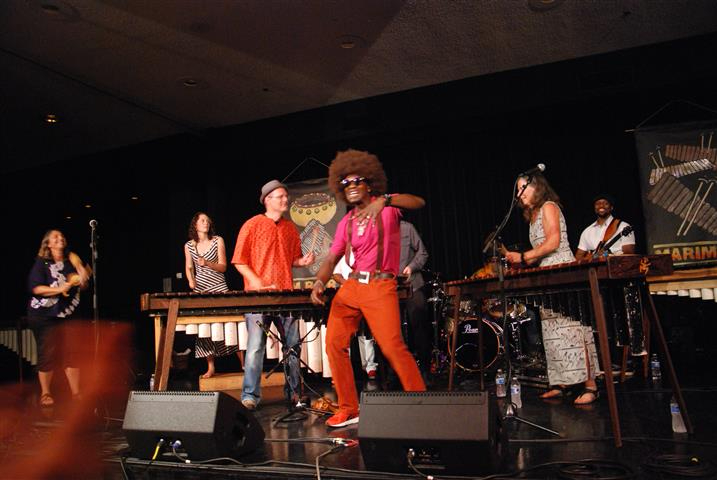 The Zimfest Marketplace and outdoor stage will be located on the WOU shady field known as The Grove, convenient to the festival registration area in the Werner University Center (WUC), as well as workshop spaces, dorms and dining hall. The Thursday evening concert and opening ceremony will be held at the outdoor stage, weather permitting, and ticketed evening concerts will be held indoors in the Pacific Room of the WUC.
Zimfest 2018 – Save the Date
Many thanks to Zimfest 2018 graphics artist Rachel Edson for her hard work and creative efforts. The Music Dancing Across Borders theme inspired her graphic depicting Zimbabwean musicians and dancers in a circle – suggesting a spiral with no beginning and no end.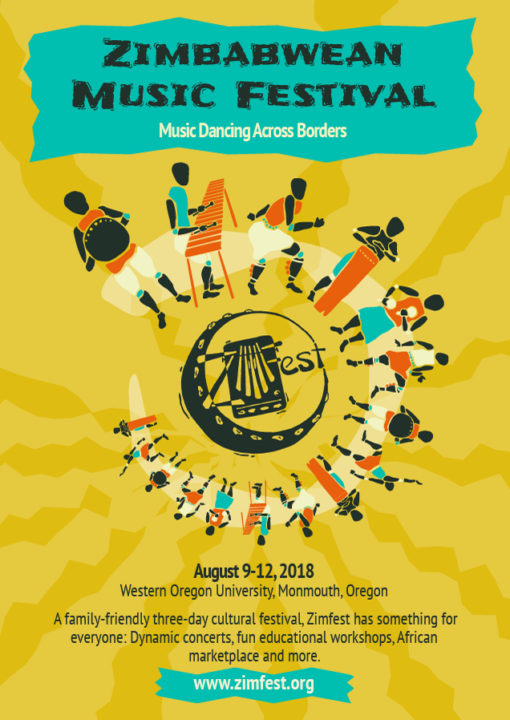 Festival Archives
Details of Zimfest 2016 (and other past festivals) are available in the festival archives: