Zimfest 2018 will be held August 9-12 at Western Oregon University. We are pleased to return to the festival-friendly WOU campus in the town of Monmouth, Oregon, nearly equidistant from Portland and Eugene. We hope to see you there!
Online Registration Is Open
Registration for all Zimfest participants is now open. We are pleased to debut our new Zimfest registration system, the product of 16 months of research and development by our hard-working Zimfest Technical Team. Many thanks to them, and also to Alex Weeks and Jake Roberts as co-creators of the now-retired system which served us well since 2010.
The Zimfest Organizing Committee is proud of the program we have put together for 2018, which you can check out in the Festival Events and Festival Schedule pages. The Cultural Appropriation panel on Saturday morning August 11 is an important, free community event. In order for all Zimfest participants to be able to attend, we did not schedule any workshops at the same time. But this does not mean there are fewer workshops than in previous years; what it means is that there are more workshops on Friday and Sunday! The lesson here is come early on Friday and/or stay late on Sunday!
Explore the varied workshop offerings under the Workshops menu; you can view them as a filterable List or in Grid or Table views to take in the schedule at a glance. We are unable to confirm all Zimfest performers at the present time, but anticipate publishing concert schedules and performer biographies by late May.
Introducing a Star-Studded Zimfest Lineup
Our featured group at Zimfest 2018 is the Mafuleni Family Band, consisting of old friends Jacob Mafuleni and Martha Thom touring with their 17 year-old son Abel Mafuleni for the first time. Jacob and Martha, back after a five-year absence, continue to delight audiences with deeply-textured arrangements for marimba, mbira and drums, powered by traditional dance and singing. Abel has become an extraordinary mbira, marimba, drum, and dance teacher in his own right. The trio is sponsored by the Matanho Project.
Other Zimbabweans joining us at Zimfest to teach and/or perform for the first time include:
Inspiring vocalist and choir director Tsungai Tsikirai, based in the UK
Award-winning instrumentalist and choir leader Tafadzwa Matiure, following in his father's (Dr. Sheasby Matiure) footsteps
Nyunga nyunga specialist Barnabas Ngalande and marimba virtuoso Tawanda Mapanda, both sponsored by Polyphony
Dancer/instrumentalist Napoleon Jambwa, currently living in Capetown
Gwenyambira Alois Mutinhiri, coming from Zimbabwe.
We also welcome back popular gwenyambira and teacher Musekiwa Chingodza (based in Zimbabwe); Kwanongoma graduate and marimba expert Michael Sibanda (South Africa); marimba specialist Patience Musandirire (Zimbabwe) and the multi-talented vocalist and dancer Lucky Moyo (traveling from England). As always at this point in time, visas and travel plans are still pending for most of these artists.
Last, but certainly not least, we extend a hearty welcome to Zimfest 2018 to the following North American-based Zimbabwean teachers and performers: Rujeko Dumbutshena; Tapiwa Kapurura; Zivanai Masango; Paul Mataruse; Chakaipa Mhembere; Kurai Blessing Mubaiwa; the Muchineripi family band Chihera; Evelyn Mukwedeya; Samuel Mukwedeya; and Moyo 'Rainos' Mutamba.
Biographical information on all teachers, North Americans as well as Zimbabweans, is available on the Workshop Teachers page.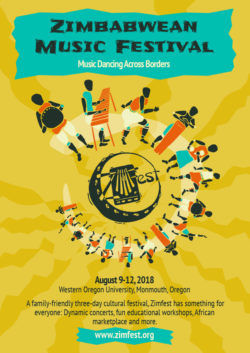 Zimfest 2018 – Music Dancing Across Borders
Feel free to download the Zimfest 2018 Save the Date card, designed by graphics artist Rachel Edson. The Music Dancing Across Borders theme inspired her graphic depicting Zimbabwean musicians and dancers in a circle – suggesting a spiral with no beginning and no end.
Festival Archives
Details of Zimfest 2016 (and other past festivals) are available in the festival archives: