Core Contributors (Organizing Committee)
| | |
| --- | --- |
| Claire Jones | Zimfest Coordinator |
| Nora Holmquist | Workshops/Registration |
| Mandy Walker-LaFollette | Production Coordinator |
| Evelyn Keller | Volunteer Coordinator |
| Jim Levine | Jack of all Trades |
| Daniel Lockley | Jack of all Trades |
| Mark Keller | Jack of all Trades |
| Joy Dworkin | Virtual Marketplace Coordinator |
Tech and Production Team
| | |
| --- | --- |
| Jake Roberts | Tech Chair |
| Larry Israel | Webmaster; Tech Team |
| Nora Holmquist, Janis Weeks | Tech Team members |
| Jake Roberts, Alex Weeks | Production Crew  |
Tatenda! Siyabonga!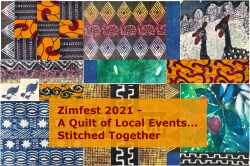 A tip of the Zimfest hat to James von Hendy, who had to drop out of the OC due to other commitments.
Thanks to Anneke Wambaugh for her wonderful quilt graphic!
If you are interested in being involved in organizing or running Zimfest, contact or the Zimfest Association Board at .