Zimfest 2019 will be held August 8-11 at Western Oregon University in Monmouth, Oregon. A family-friendly three-day cultural festival, Zimfest has something for everyone: Dynamic concerts, fun educational workshops, African marketplace and more.
Zimfest Features
Music & Dance Workshops
Evening Concerts
Free Outdoor Afternoon Concerts
African Marketplace
Cultural Presentations
Community Conversations
Late-Night Music Parties
On-Campus Housing, Camping and Meals
Volunteering
Applications
Applications to teach or perform at Zimfest 2019 will be available in early January and must be submitted by February 28.
We are pleased to return to the festival-friendly WOU campus, nearly equidistant from Portland and Eugene. The Monmouth area, in the heart of Oregon's wine country, is also a great point of departure for day trips exploring the beautiful Willamette Valley or heading west to the Oregon coast. We hope to see you there!
Zimfest 2018 — Music Dancing Across Borders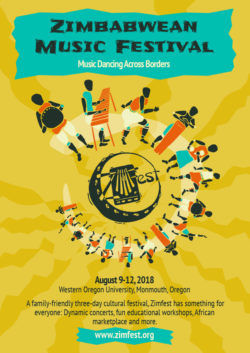 Zimfest 2018 was held August 9-12 at Western Oregon University. Details of past festivals are available in the festival archives.
Zimbabwean Guests
Zimbabweans joining us at Zimfest 2018 to teach and/or perform for the first time included:
17 year-old marimba band-leader and nyunga nyunga, drum, and dance teacher Abel Mafuleni
Inspiring vocalist and choir director Tsungai Tsikirai, based in the UK
Award-winning instrumentalist and choir leader Tafadzwa Matiure, following in his father's (Dr. Sheasby Matiure) footsteps
Dancer/instrumentalist Napoleon Jambwa, currently living in Capetown
Gwenyambira Alois Mutinhiri, coming from Zimbabwe.
We also welcomed back popular gwenyambira and teacher Musekiwa Chingodza (based in Zimbabwe); Kwanongoma graduate and marimba expert Michael Sibanda (South Africa); marimba specialist Patience Musandirire (Zimbabwe); and the multi-talented vocalist and dancer Lucky Moyo (traveling from England).
Last, but certainly not least, we extended a hearty welcome to Zimfest 2018 to the following North American-based Zimbabwean teachers and performers: Rujeko Dumbutshena, Tapiwa Kapurura, Zivanai Masango, Paul Mataruse, Chakaipa Mhembere, Kurai Blessing Mubaiwa, Evelyn Mukwedeya, and Moyo 'Rainos' Mutamba.